"Special webinar on Covid-19 impacts on air cargo creates a buzz"
The STAT Trade Times and Messe Munchen successfully organised and conducted a webinar, on behalf of The International Air Cargo Association (TIACA) Ai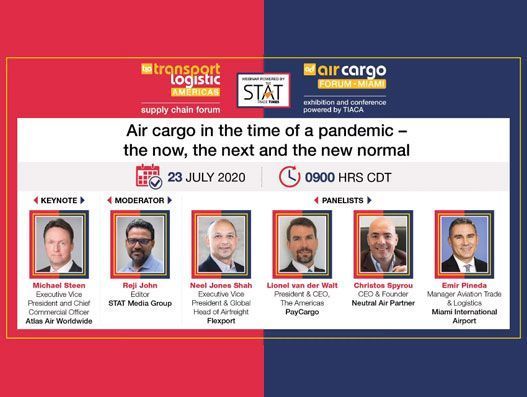 On July 23, The STAT Trade Times and Messe Munchen successfully organised and conducted a webinar, on behalf of The International Air Cargo Association (TIACA) Air Cargo Forum (ACF) 2020, with a special focus on air cargo's position amid unprecedented challenges presented by the Covid-19 pandemic. The webinar was titled: 'Air cargo in the time of a pandemic – the now, the next and the new normal'.
The webinar saw a panel of experts from freight forwarding companies, eBooking air cargo platform provider, airlines, and airport.
We would like to thank all the panellists for sharing their deep insights on the current air cargo trends and mapping an optimistic future for the industry.
The webinar, which was moderated by Reji John, Editor of STAT Media Group, involved following panellists:
Emir Pineda, Manager Aviation Trade & Logistics, Miami International Airport.
Christos Spyrou, CEO & Founder, Neutral Air Partner
Lionel van der Walt, President & CEO, The Americas, PayCargo
Michael Steen, Executive Vice President and Chief Commercial Officer, Atlas Air Worldwide
Neel Jones Shah, Executive Vice President & Global Head of Airfreight, Flexport.
The webinar has garnered traction from one of the leading media outlets like the Bloomberg, Yahoo Finance, Economic Times, and LiveMint and continues to make rounds on various social media platforms.
To download the documents presented at the webinar, please click here

Bloomberg
---

Yahoo Finance
---

Economic Times
---

LiveMint
---

Cargo Forwarder