Sneak peek into June issue of STAT Trade Times
The June issue of the STAT Trade Times features a cover story on the current state of moving high value pharmaceutical products by air. Reji John examines the challenges involved in maintaining the pharmaceutical supply chain integrity. In the industry report Surya Kannoth writes on air cargo market in Asia, which, according to the report, […]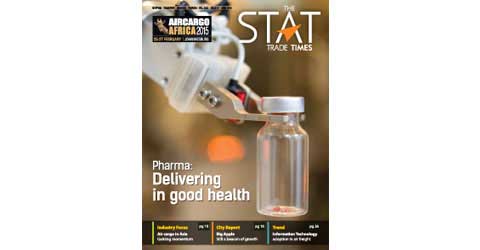 The June issue of the STAT Trade Times features a cover story on the current state of moving high value pharmaceutical products by air. Reji John examines the challenges involved in maintaining the pharmaceutical supply chain integrity. In the industry report Surya Kannoth writes on air cargo market in Asia, which, according to the report, has registered impressive growth. East Africa with abundant opportunities both for transport and logistics industries is the discussion point in the regional report this month. The city report says New York has always been a place of promise and possibility and has become an epicenter of global commerce. With more than two million metric tons of air freight and 58 million passengers handled annually, Frankfurt Airport is the airport in focus this month.
The regional report is on the UK air freight market, which, according to the report, remains challenging and therefore calls for cautious optimism. In a special report on just-in-time solutions, Namrata More writes about its crucial relevance to the manufacturing and retail industries and argues that innovation will be the differentiator in this sector. In a trend report on technology adoption in air cargo, Reji tracks the buzz around the increasing pressure on the air cargo industry to embrace information technology rapidly to remain itself competitive and maintain its value.
In the shipping section, read a report on the US-Asia trade, which has seen tremendous growth over the past decade. The port in focus, in this issue, is Jawaharlal Nehru Port in Navi Mumbai, which handles almost 56 percent of India's containerised cargo. With an investment of close to $8 billion in development and modernization, JNPT is positioning itself as the preferred port of call for every shipping company.