Skywork Airlines to fly to Basel marking its newest operation
September 7, 2017: Expanding its global reach, SkyWork Airlines has begun operations to the northwestern Swiss city of Basel from Monday, September 4 2017. "In addition to Bern, SkyWork Airlines now serves a second destination from Vienna. Thanks to its contemporary architecture and multifaceted culture, Basel, Switzerland's third largest city, is especially popular for city […]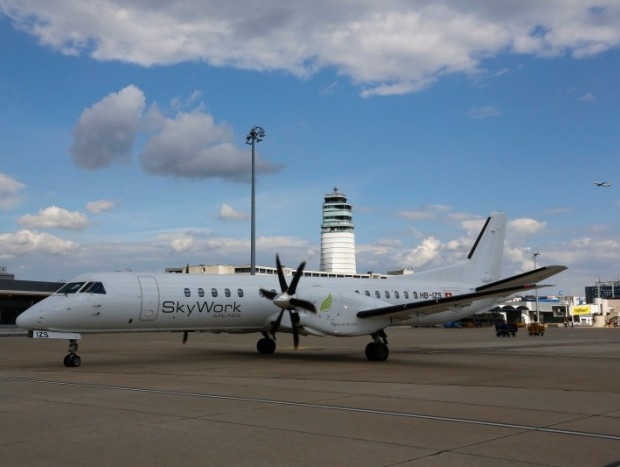 September 7, 2017: Expanding its global reach, SkyWork Airlines has begun operations to the northwestern Swiss city of Basel from Monday, September 4 2017. "In addition to Bern, SkyWork Airlines now serves a second destination from Vienna. Thanks to its contemporary architecture and multifaceted culture, Basel, Switzerland's third largest city, is especially popular for city breaks", says Julian Jäger, Member of the Management Board of Flughafen Wien AG.
"The additional destination confirms our good cooperation with the airline, and the importance of flight connections between Austria and Switzerland. On balance, Vienna Airport now offers five destinations and 152 weekly flight connections to Switzerland" he adds.
"We are pleased to now fly from Basel to the metropolis of Vienna. The Vienna-Bern connection has already been an integral part of the route network of SkyWork Airlines for more than five years", says Martin Inabnit, CEO of Skywork Airlines. SkyWork Airlines will operate five weekly flights (Mondays, Tuesdays, Wednesdays, Thursdays and Fridays) to Basel; whilst the airline departs from Basel at 2 p.m. and arrives in Vienna at 3:25 p.m. The return flight leaves Vienna at 4 p.m. and arrives in Basel again at 5:25 p.m. Moreover, additional flights will also be offered on Sundays as of October 29, 2017.
SkyWork Airlines began operation in 1983 as a flying school and later ventured in transporting business passengers and private individuals. Based in Bern, it operates scheduled flights to destinations across Europe, with additional charter operations throughout the summer months. The Swiss airline boasts a fleet of three Dornier Do 328-100 and three Saab 2000 aircraft.