SkyCell delivers life-saving medicine to Baghdad
June 27, 2018: SkyCell containers have been utilised to transport 2.5 tonnes of compassionate drugs from London, United Kingdom to the capital of Iraq, Baghdad. 
The pharmaceutical drug used to treat patients suffering from copper poisoning was delivered to Baghdad, in cooperation with the Iraqi Ministry of Health. 
"We are very proud to have contributed with our technology to this humanitarian effort as part of the ongoing struggle to rebuild this war-torn country," said Richard Ettl, CEO of SkyCell. 
In Iraq, copper poisoning is a widespread problem due to the burning of electronic waste and plastics. An overdose of copper disturbs mental function, irritates the nerves and nervous system leading to many inflammatory conditions, such as skin irritations, asthma, and depression. 
The experimental drug not only represents a value of $6.8 million but is also highly temperature sensitive. The experimental pharmaceutical requires a fully controlled cold chain solution with an unbroken temperature environment between 2 to 8 degrees Celsius. In addition to that, security requirements at Baghdad Airport demand all shipments to be X-rayed, which would result in the cold chain to be broken. 
"Hence, SkyCell 1500C units became the "containers-of-choice", as their innovative design and passive cooling system not only guarantee the required temperature range, but also allow X-ray-examination without breaking the official seals," said Nico Ross, CTO and co-founder of SkyCell. 
Therefore, a door-to-door delivery of the compassionate drug was possible, arriving at the designated hospital without the cold chain being broken.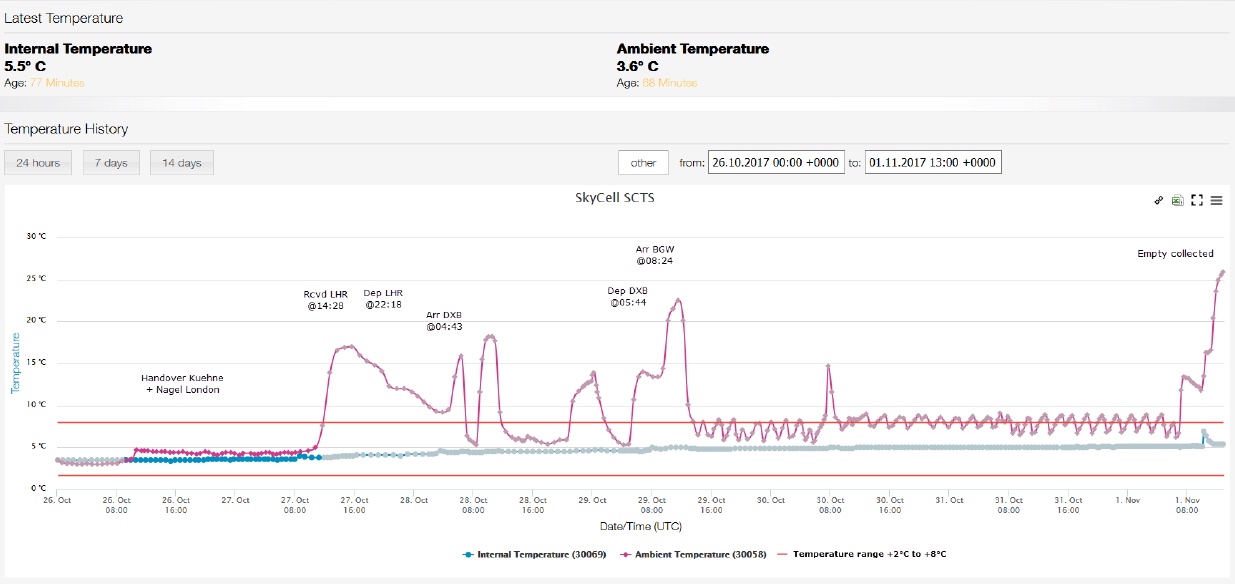 "SkyCell was selected also due to the possibility to travel not only to the Baghdad airport but door-to-door to the dedicated hospital, giving a guarantee of maintenance in the cool chain. There was simply no room for error as any temperature deviations would cause the life-saving product to be written off with a replacement shipment taking around 6 months to manufacture," said Chiara Venuti, Business Development director at SkyCell. 
The customers decision to use SkyCell containers was also made due to its low carbon footprint, saving 6 tonnes of CO2 per container in this transport alone, compared to competitors' products.