FROM MAGAZINE: Singapore's formula for growth
Even as its export-oriented economy hit the brakes in 2019, amid a tense trade war between the US and China, Singapore still remains one of Asia's wealthiest nations, due to its emergence as the highest-performing logistics hub in the region. For outsiders, Singapore's progress is often measured by the way that it accessorised its strides […]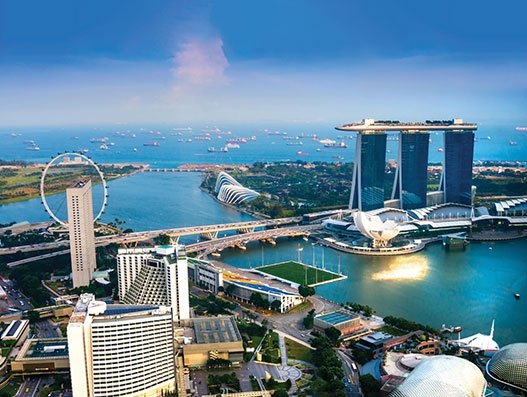 Even as its export-oriented economy hit the brakes in 2019, amid a tense trade war between the US and China, Singapore still remains one of Asia's wealthiest nations, due to its emergence as the highest-performing logistics hub in the region.
For outsiders, Singapore's progress is often measured by the way that it accessorised its strides forward. Its infrastructure is near-seamless – it is home to the world's largest transshipment container port, linked to over 600 ports worldwide and the nation's Changi Airport is the 8th largest cargo hub in the world for international cargo. Booming intra-Asian trade has also positioned airlines flying through Singapore to not only take advantage of growing passenger numbers but also expanding cargo volumes.
According to World Bank's Logistics Performance Index (LPI) 2018, the country ranks seventh in the world and ranks third for logistics competence. Being a regional hub, the country is a preferred location for manufacturers leveraging the ecosystem of leading shippers and third-party logistics providers (3PLs) in the country. It is also home to specialised logistics capabilities like healthcare and cold chain, chemical, aerospace, art and wine logistics.
Singapore's attractiveness can be seen in how 24 out of the world's top 25 freight forwarder companies have established their regional headquarters or operations in Singapore. These include multinationals such as DHL, Agility, Kuehne and Nagel, among others. Providing an enabling environment and efficient climate for other goods and services producing industries, most of the enterprises in Singapore have engaged third and fourth-party logistics services.
Changi Airport expansion plan
In 2019, the Republic embarked on a mission to almost double its annual cargo handling capacity at Changi Airport to support and benefit from growth in the air cargo sector. As part of the developments at Changi East, where the future Terminal 5 (T5) is being built, Changi Airport Group (CAG) is also planning an industrial zone, said Dr Lam Pin Min, senior minister of state for transport at a global cargo conference.
Billed as the airport's biggest expansion project in more than three decades, the 1,080-hectare Changi East development includes the airport's new Terminal 5 (T5), a three-runway system, the Changi East Industrial Zone (CEIZ), landside and aviation support facilities, as well as the construction of tunnels and other underground systems.
Source: World Bank 2018
With the addition of T5, Changi Airport will reach an annual passenger capacity of 135 million passengers; while the Changi East Industrial Zone will be developed for airfreight, air express and maintenance, repair and overhaul (MRO) activities. Changi Airport's cargo facilities, currently located at the Changi Airfreight Centre, will also be expanded to the Changi East Industrial Zone. The Changi East Industrial Zone, together with the remodeled Changi Airfreight Centre, will increase Changi's cargo handling capabilities from 3 million tonnes annually today, to 5.4 million tonnes annually when the project is completed.
"In the long term, Singapore will continue to innovate and transform Changi Airport to meet the evolving demands of the air cargo sector. When fully completed, the Changi East Industrial Zone will almost double our current handling capacity for cargo," Dr Lam said. Focusing on automation, the future expanded air cargo hub will use data and technology to enhance the speed and efficiency in the movement of cargo.
While Asia remains key to the air hub's future, CAG will continue to pursue growth in other regions, including Europe, said the airport's managing director for air hub development, Lim Ching Kiat. With national carrier Singapore Airlines and other airlines adding flights, Changi is well-connected with the United States and Europe. While in North America, Vancouver, Toronto and Chicago are the next key destinations, in Europe, cities like Geneva, Madrid, Oslo and Vienna are next on the radar. The airport is also looking to bolster its connectivity to Russia and the Central Asian region, with links to cities such as Almaty, Astana and St Petersburg.
Furthermore, Changi Airport announced that a working group had been formed among the airport's cargo community to pursue the International Air Transport Association's (IATA) Center of Excellence for Independent Validators for Perishable Logistics (CEIV Fresh) certification. The airport, together with the Civil Aviation Authority of Singapore, dnata Singapore and Singapore Airlines will work towards certification-related costs with the aim to improve handling capabilities for perishable products at the airport. SATS, the largest handler at Changi, is pursuing CEIV Fresh certification independently of the group and expects to finish the process by April 2020.
At present, perishable cargo comprises about 13 percent of the airport's cargo throughput, and is a segment that continues to grow, even as other sectors have got a drubbing. Standards for the IATA CEIV Fresh programme are based on IATA's Perishable Cargo Regulations (PCR), and are designed to ensure the safety of perishable food products through standardisation of handling and transport operations. The new certification was launched earlier this year at the World Cargo Symposium in Singapore. Changi was the the first airport in Asia to obtain IATA's CEIV Pharma certification. Under the community approach, at least one company from each segment of the air cargo supply chain would have the facilities, equipment, processes and trained staff to comply with all applicable standards, regulations and guidelines. This is in addition to SATS Coolport being the first facility in the world to attain the IATA CEIV Pharma certification.
Changi Airport is also part of pharma.Aero, an international association consisting of pharma shippers, CEIV certified cargo communities, airport operators and other air cargo industry stakeholders to achieve excellence in reliable end-to-end air transportation of pharmaceutical shipments. Its mission is to foster collaboration between CEIV certified airport communities dedicated in developing and leading when it comes to handling pharmaceuticals.
Recently, IATA introduced the Smart Facility Operational Capacity Audit Certification (SFOC Audit Certification) to provide airlines with the assurance that SFOC Certified facilities are adhering to IATA's Resolutions and Recommended Practices in cargo handling and with IATA's Cargo Handling Manual (ICHM). Singapore will be the initial focal point for this important new initiative. SATS and Singapore Airlines are the first organisations to join the SFOC programme. SATS is the first cargo handling facility to receive the new SFOC Audit Certification and Singapore Airlines is the first airline to join the programme.
Smart Nation initiative
Being at the forefront of technology advancements for the logistics sector is in line with the country's goal of becoming a Smart Nation. By constantly keeping up with the latest technology advancements and embracing changes, Singapore has been an early adopter of the one-stop customs clearance service with the introduction of TradeNet, the first trade facilitation electronic platform launched in the world.
As part of the Smart Nation plan, the Smart Logistics initiative charts a path for the development of a cutting-edge logistics network in Singapore. It aims to harness a suite of new and developing technologies to allow cargo owners and third-party logistics service providers to gain greater visibility into their supply chains, and share resources to create more efficient logistics networks.
For the flag carrier, Singapore Airlines Group (SIA) has remained committed to its three-year transformation programme to enhance customer experience, grow revenue and improve operational efficiency. The programme encompasses company-wide training programmes and participation by staff in innovation projects across the group; building digital capabilities through extensive IT-related recruitment and a shift to agile delivery of IT projects; large-scale investment in IT infrastructure; and increased collaboration with global tech leaders, start-ups and research institutes.
Bridging the sea-air connectivity
Meanwhile, port and terminal operator PSA International and SATS recently signed a memorandum of understanding (MoU) to establish sea-air connectivity to promote Singapore as a key multimodal transport hub. Combining air and sea connections, the partnership strengthens Singapore's position as a global transhipment hub for air and sea cargo.
The freight industry, including small and medium sized enterprises stand to benefit from improved multimodal linkages and transit systems for better supply chain efficiency, optimised transport costs, and faster delivery. The two companies will collaborate on a wide range of cross-industry initiatives, particularly in the perishables, electronics and e-commerce sectors.
From yard-to-port data linkages and network extensions between both companies to enhance track-and-trace capabilities, the partnership will facilitate data transparency and ease of shipment movement within free-trade zones. SATS and PSA will also integrate their systems to aid regulatory compliance and build data analytics capabilities.
Three important factors - connectivity, infrastructure and processes create an integrated ecosystem that allows logistics to thrive. Singapore's performance and success across all three counts is proof that with a forward-thinking vision and much determination, a developing country can become a leading logistics hub.
This feature was originally published in February 2020 issue of STAT Trade Times.