Singapore Airlines, Vistara expand codeshare agreement
August 6, 2019: Singapore Airlines (SIA) and SilkAir have become Vistara's first codeshare partners after it announced its international flights to Singapore from New Delhi and Mumbai. Vistara commenced international operations from today with its Delhi-Singapore operations, using Boeing 737-800NG aircraft. Under the expansion of an existing codeshare agreement which covers Indian domestic flights, SIA […]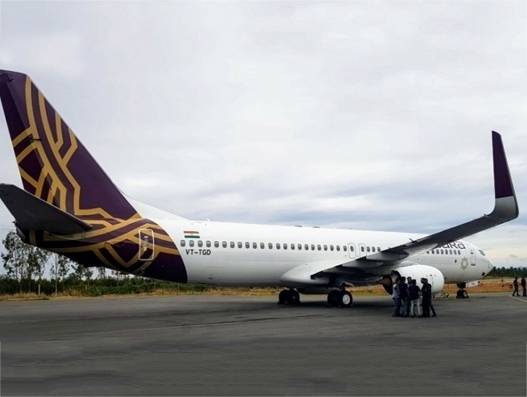 August 6, 2019: Singapore Airlines (SIA) and SilkAir have become Vistara's first codeshare partners after it announced its international flights to Singapore from New Delhi and Mumbai. Vistara commenced international operations from today with its Delhi-Singapore operations, using Boeing 737-800NG aircraft.
Under the expansion of an existing codeshare agreement which covers Indian domestic flights, SIA will add its 'SQ' designator code to Vistara's new international flights. In addition, SIA and SilkAir will add nine new codeshare destinations within India on Vistara-operated flights (Chandigarh, Dibrugarh, Jammu, Leh, Pune, Raipur, Ranchi, Siliguri and Srinagar). With this expansion, SIA will codeshare on Vistara flights to more than 20 Indian destinations.
Similarly, Vistara will add its 'UK' designator code to SIA- and SilkAir-operated flights between Singapore and eight destinations in India (Ahmedabad, Bengaluru, Chennai, Cochin, Hyderabad, Kolkata, Mumbai and New Delhi). As part of the arrangement, Vistara will codeshare on services to more than 40 destinations3 in the SIA and SilkAir network. These codeshares will be implemented in phases and are subject to regulatory approvals. This is the first time Vistara will be codesharing with partner airlines on international flights.
Today's the day we've all been waiting for! Our first international flight, UK115, departs #Delhi for #Singapore at 11:45pm this evening! To say that we are thrilled is an understatement! #SingaporeOnVistara pic.twitter.com/YxSZFHs5JW

— Vistara (@airvistara) August 6, 2019
"Vistara is an important partner for SIA and SilkAir. This expansion of our codeshare agreement provides our customers with more travel options to and from India. We congratulate Vistara on the launch of its international services, and are proud to be Vistara's first codeshare partner for its international flights," said Tan Kai Ping, senior vice president marketing planning, SIA.
The codeshare flights will be progressively made available through SIA and Vistara booking channels once necessary regulatory approvals are obtained.
"Vistara found its first codeshare partners in Singapore Airlines and SilkAir, and now we are further expanding the agreement to international flights with them. We're happy to deepen this strategic partnership which means a more seamless flying experience for travellers from India to destinations across Asia, Oceania and the United States," Vinod Kannan, chief strategy officer, Vistara.