Singapore Airlines inks three-year deal with SkyCell for temperature-controlled pharma containers
June 14, 2019: Taking its range of solutions for pharmaceutical cargo a notch higher, Singapore Airlines (SIA) has signed a lease agreement with shipment container provider SkyCell, for leasing of temperature-controlled pharma containers, effective May 1, 2019. This is a step in the right direction for SIA thus expanding its THRUCOOL quality corridor network. SIA […]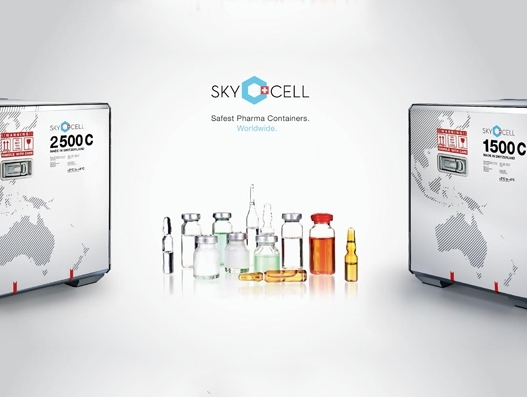 June 14, 2019: Taking its range of solutions for pharmaceutical cargo a notch higher, Singapore Airlines (SIA) has signed a lease agreement with shipment container provider SkyCell, for leasing of temperature-controlled pharma containers, effective May 1, 2019. This is a step in the right direction for SIA thus expanding its THRUCOOL quality corridor network.
SIA launched THRUCOOL in September 2018 as a cold chain service to transport high-value, time-sensitive and temperature-controlled pharmaceutical cargo with speed and reliability. The launch coincided with the introduction of a 'quality corridor' along the Zurich-Singapore-Sydney route, with strict end-to-end temperature control for the handling and transportation of temperature-sensitive goods. By complying with standards adopted from the IATA CEIV Pharma1 program, the quality corridor addresses the industry's need for safety, care and efficiency in the transportation of pharmaceutical products.
The Swiss-made containers are designed to maintain pharmaceutical products between +2 to +8 degrees Celsius or +15 to +25 degrees Celsius, even under extreme ambient temperatures. Cutting-edge patented insulation helps to reflect maximum radiation and minimize heat conduction, while cooling technology that stores five times more energy than traditional methods ensures that each container is kept at a steady temperature. The containers are all equipped with IoT sensors which connect to a data cloud for quality monitoring.
SIA senior vice president for cargo, Chin Yau Seng, said, "The expansion of our THRUCOOL quality corridor network and lease partnership with SkyCell demonstrate our commitment to providing quality-assured dedicated cold chain services when transporting time- and temperature-sensitive pharmaceutical shipments. We will continue to improve our service offerings and collaborate with our industry partners to pursue innovation in the shipping of pharmaceuticals."
"Singapore Airlines is the leading airline in Asia Pacific with a specialized pharma offering and an extensive network. The collaboration will meet the growing demand for reliable and safe pharmaceutical transportation solutions in the Asia-Pacific region and contribute to eliminating temperature excursions for shipments to emerging markets," said Richard Ettl, CEO of SkyCell.
Starting June 13, 2019, SIA's quality corridor network will include Amsterdam and Ho Chi Minh City. Customers now have the option of using THRUCOOL to transport pharmaceutical products from Amsterdam or Zurich to Ho Chi Minh City or Sydney via Singapore, with assurance of maximum attention to product integrity at each step of the journey. Looking ahead, SIA will continue to collaborate with industry partners to expand its quality corridor network across key trade lanes.