Silk Way West invests in Mantle from AmSafe Bridport for better safety
Dec 19, 2019: Silk Way West Airlines has taken a responsible step forward to ensure safety by investing in FCC products for transporting volatile cargo such as Li-Ion batteries and related products. "We are spearheading the development, which will be crucial to our future operation as we are seeing a surge of Li-Ion battery content […]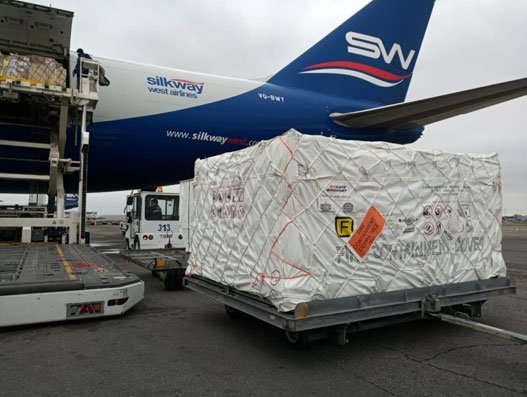 Dec 19, 2019: Silk Way West Airlines has taken a responsible step forward to ensure safety by investing in FCC products for transporting volatile cargo such as Li-Ion batteries and related products.
"We are spearheading the development, which will be crucial to our future operation as we are seeing a surge of Li-Ion battery content within the cargo volumes we are transporting throughout our global network. Therefore, we have opted for Mantle from AmSafe Bridport to carry on a pioneering role in our industry," said Wolfgang Meier, CEO, Silk Way West Airlines.
By reducing risk and improving safety, Mantle provides airlines with the opportunity to carry Li-Ion batteries. This then effectively creates a greater scope of possibilities for carriers and manufacturers across the globe to increase business. With Mantle, AmSafe Bridport is the first company to achieve TSO certification C203 for Type 1 FCCs.
Silk Way West Airlines is maximising fire safety in freight transportation in view of the increasing concern over potential fire hazards when transporting goods such as lithium-ion batteries in aircraft cargo holds.
Jason Abbott, president, AmSafe Bridport, said "The industry has witnessed recent incidents where two main carriers effectively contained Lithium-ion cargo fires with Mantle fire containment covers. Ultimately our FCC products reduce risk, improve safety and more importantly save lives. We are delighted that Silk Way West Airlines have made the decision to use our FCC products and set a benchmark in the industry for transporting cargo and people safely."
"We are further investing into cargo and fight safety measures, which are paramount for our Airline, and I am happy we found a robust yet cost-effective solution, said Emile Khasanshin, VP, Global Cargo Logistics, Silk Way West Airlines.
Silkway West Airlines operates a global cargo network connecting more than 45 online destinations on a scheduled basis via its global hub in Baku. The Airline operates a 15 aircraft strong Boeing 747 full-freighter fleet across its growing network.