Siemens, Gaussin cooperate on airport logistics and cargo handling services
Dec 19, 2018: Yesterday Siemens Postal, Parcel & Airport Logistics (SPPAL) announced about the new cooperation agreement with French engineering company Gaussin Manugistique for the global commercialisation of autonomous guided vehicles (AGVs) for the transportation of unit load devices (ULDs) at airports. Based on the agreement, SPPAL will contribute among others its reliable and efficient […]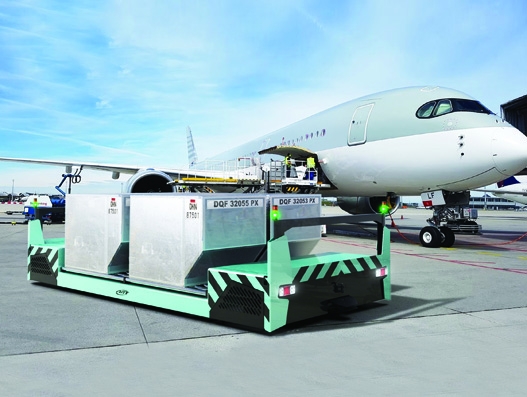 Dec 19, 2018: Yesterday Siemens Postal, Parcel & Airport Logistics (SPPAL) announced about the new cooperation agreement with French engineering company Gaussin Manugistique for the global commercialisation of autonomous guided vehicles (AGVs) for the transportation of unit load devices (ULDs) at airports.
Based on the agreement, SPPAL will contribute among others its reliable and efficient conveyor technologies and baggage handling solutions, and Gaussin is bringing its innovative automated vehicles to the table.
"In combination with our expertise in baggage and cargo handling systems, this cooperation will lead to even greater operational efficiencies and benefits for our customers," said Michael Reichle, CEO of Siemens Postal, Parcel & Airport Logistics.
"At the same time, Siemens takes a further step in developing its integrated Aviation 4.0 portfolio."
"Passenger numbers and the demand for air cargo are both buy seroquel online cheap rising. This brings new challenges to our company, but even greater opportunities", added Christophe Gaussin, CEO of Gaussin Manugistique.
Siemens is already making a major contribution to Aviation 4.0 with its comprehensive portfolio of cloud-based software solutions such as Internet of Things (IoT) and data analytics.
Gaussin Manugistique is a global engineering company, specialised in environmentally compatible technologies for wheeled handling systems and logistics for airports, ports and industrial applications.
Siemens serves 16 of the 20 largest passenger airports worldwide, handling a total of 1.1 billion airline customers per year. Furthermore, six of the world's top ten cargo airports are Siemens customers, which together handle around 19 million tonnes of goods annually.