Sichuan Airlines signs AFI KLM E&M to deliver component support for its A350 fleet
October 31, 2017: AFI KLM E&M and Sichuan Airlines have signed an agreement to organise component support for the Chinese carrier's fleet of A350s which will ultimately number four aircraft. With this contract, Sichuan Airlines becomes the first Chinese airline to opt for AFI KLM E&M's A350 component maintenance solutions. The contract covers a broad […]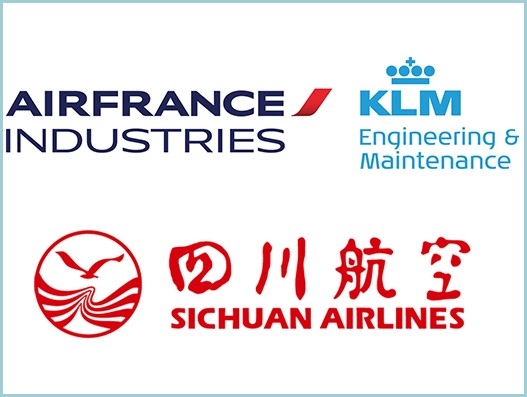 October 31, 2017: AFI KLM E&M and Sichuan Airlines have signed an agreement to organise component support for the Chinese carrier's fleet of A350s which will ultimately number four aircraft. With this contract, Sichuan Airlines becomes the first Chinese airline to opt for AFI KLM E&M's A350 component maintenance solutions.
The contract covers a broad spectrum of services, from repairs to organising training sessions, plus part availability services (access to AFI KLM E&M's A350 spares pool), the deployment of a Main base Kit and a forward pool located in Chengdu.
Seeking a partner able to respond to a diversified range of requirements for the support of its future A350 fleet, Sichuan Airlines opted for AFI KLM E&M, whose sales teams developed a bespoke offering comprising basic repair services, component availability, and supplementary services such as training for Sichuan Airlines personnel.
The expertise acquired on the new-generation wide-body by AFI KLM E&M, which is already providing full support for the Air Caraïbes fleet of A350s in particular, also helped to swing the deal with Sichuan Airlines. AFI KLM E&M was able to devise the best offer suited to Sichuan Airlines particular requirements, from access to its spares pools to provision of a MBK. The MRO Group, which works with Delta Airlines, has also bolstered its A350 component support capabilities in the United States - an additional guarantee of operational fleet support availability for Sichuan Airlines, which will operate its A350s on routes to North America.
Fabrice Defrance, Senior vice president Commercial AFI KLM E&M, said, "We are delighted to be working once more with Sichuan Airlines, which has become our first Chinese partner for our A350 product. AFI KLM E&M's international reputation on the latest addition to the European airframer's portfolio has thus reached even further into the Asian market, where there is a large-scale need for MRO services with the expansion of A350 fleets among the region's airlines. We will do our utmost to prove ourselves worthy of the trust shown us by Sichuan Airlines by delivering the most responsive, efficient support possible."