SIA Engineering and Air India Engineering sign agreement for India MRO services
October 6, 2017: The Singapore exchange-listed SIA Engineering Company Limited (SIAEC) and Air India Engineering Services Limited (AIESL), has entered into a non-binding Memorandum of Understanding (MoU) to offer MRO services in India. AIESL is a wholly-owned subsidiary of Air India Limited providing maintenance, repair and overhaul (MRO) services. Under the MoU, SIAEC and AIESL […]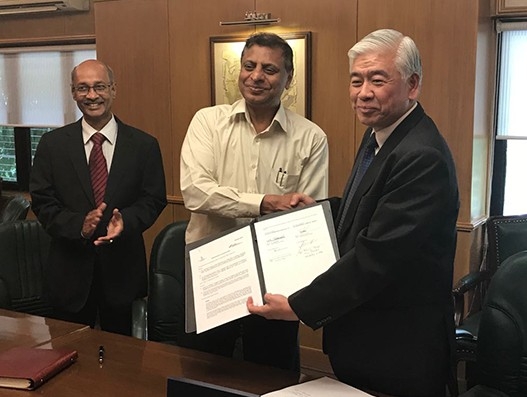 October 6, 2017: The Singapore exchange-listed SIA Engineering Company Limited (SIAEC) and Air India Engineering Services Limited (AIESL), has entered into a non-binding Memorandum of Understanding (MoU) to offer MRO services in India. AIESL is a wholly-owned subsidiary of Air India Limited providing maintenance, repair and overhaul (MRO) services.
Under the MoU, SIAEC and AIESL will collaborate to offer line maintenance and ancillary services at various airports in India as well as engineering training. Both companies will be able to provide a broader spectrum of services and customised packages to domestic and foreign airlines operating in and out of India.
AIESL's extensive infrastructure, resources within India and their local knowledge clubbed with expertise in the Indian market will be an added advantage for the collaboration. While on the other hand, SIAEC will bring their comprehensive MRO service offerings, maintenance capabilities for new-generation aircraft on the table.
Png Kim Chiang, chief executive officer of SIAEC, said, "SIAEC is delighted to enter into this collaboration with AIESL to expand into the India market. This collaboration will allow SIAEC to offer our integrated MRO and Technical Support solutions to airline customers."
"We are pleased to enter into this collaboration with SIAEC which will contribute to enhancing our services to existing airline customers and expanding our market exposure to domestic and foreign airlines operating in and out of India. This collaboration will complement AIESL's efforts to become a leading one-stop MRO service provider in India," said HR Jagannath, chief executive officer, AIESL.