Shifts in global air cargo capacity: Seabury report
Continuing its fight against the Covid-19 pandemic, global air cargo capacity stabilises at 26 percent down last week compared to last year as reported by Seabury Consulting, now part of Accenture's travel industry practice.
The stark contrast between trade lanes remains, trade lanes to and from Asia fare better than the global average. Eastbound Transpacific capacity grows 4 percent compared to last year and remains as the only trade lane to show air cargo capacity growth. Europe – Asia capacity further declines by -6 percent.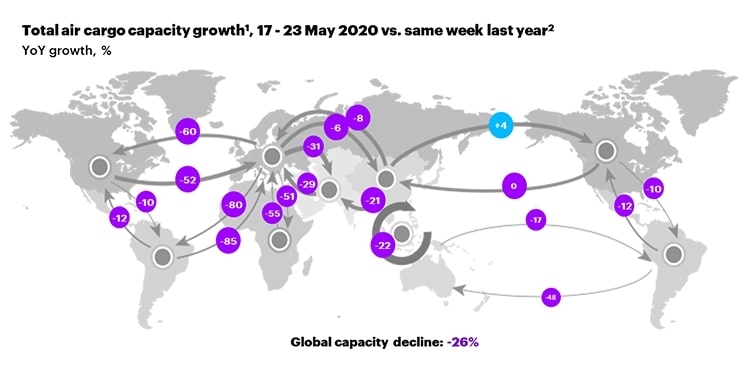 Note: Thickness of arrows is representative of January 2020 capacity in metric tonnes, direct flights only; all flows indicate region-to-region capacity; regions are indicated by color coding; 1) Total cargo capacity includes widebody passenger and all freighter flights; 2) Same week last year defined as 19 – 25 May 2019, all dates measured in UTC; Source: Seabury Consulting Capacity Tracking database, Seabury Consulting analysis (May 2020)

Passenger freighter capacity increase plateaued during the last week. Global freighter capacity remained mostly stable during the last weeks, belly capacity increases 3 percent this week compared to last week, after strong increases in previous weeks.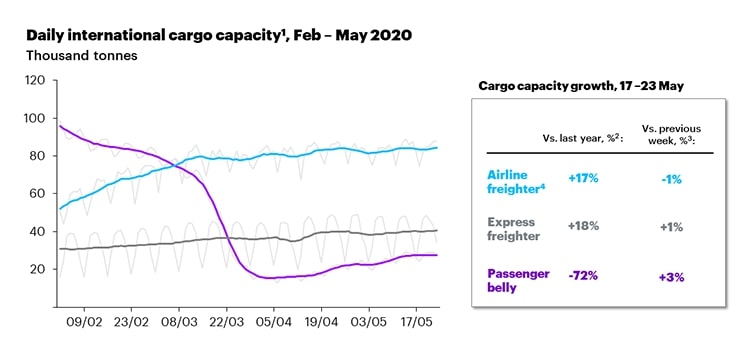 Note: Direct capacity only; All freighters and widebody passenger aircraft only, Date measured in UTC time; 1) Corrected for day-off-week fluctuations, smoothened for clarification; 2) Comparing 17 – 23 May 2020 to 19 – 25 May 2019; 3) Comparing 17 – 23 May 2020 vs. 10 – 16 May 2020; 4) Freighter aircraft (excluding those operated for integrators and "passenger freighters"); Source: Seabury Consulting Capacity Tracking database, Seabury Consulting analysis (May 2020)
New players have appeared in the world's top 10 international cargo airports. Ted Stevens Anchorage International Airport (ANC), Miami International Airport (MIA) and Leipzig/Halle Airport (LEJ) rose to the top 10 airports worldwide, displacing Singapore Changi Airport (SIN), Heathrow Airport (LHR) and Dubai International Airport (DXB). Of the airports that have retained their place in the top 10, only Incheon International Airport (ICN) and Shanghai Pudong International Airport (PVG) are receiving more capacity now than last year.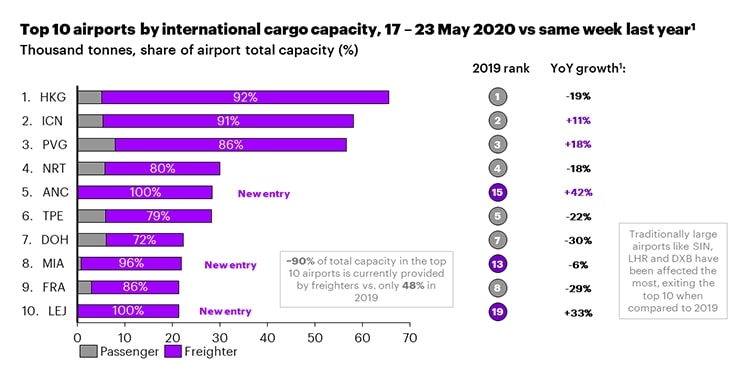 Notes: Direct international capacity only. Top 10 airports ordered by total (inbound + outbound) capacity, includes freighters and widebody passenger aircraft. 1) Same week last year defined as 19 – 25 May 2019; Source: Seabury Consulting Capacity Tracking database, Seabury Consulting analysis (May 2020)