Sharks reach their new home in Brazil with the help of American Airlines Cargo
August 26, 2017: American Airlines Cargo recently moved a very unique shipment: two sand tiger sharks and three bonnethead sharks for transport from the US to South America. The sand tiger sharks were flown from New York John F Kennedy (JFK), while the bonnethead sharks flew from Miami International (MIA), all moving to Rio de […]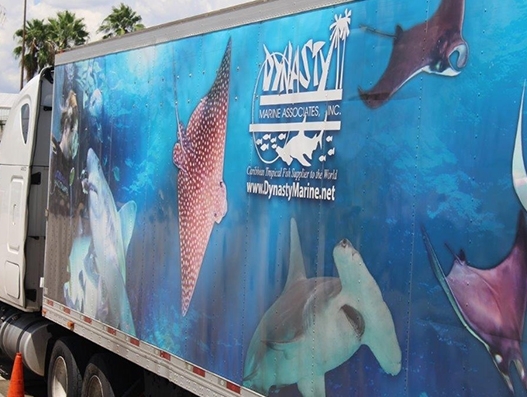 August 26, 2017: American Airlines Cargo recently moved a very unique shipment: two sand tiger sharks and three bonnethead sharks for transport from the US to South America.
The sand tiger sharks were flown from New York John F Kennedy (JFK), while the bonnethead sharks flew from Miami International (MIA), all moving to Rio de Janeiro (GIG). All five sharks were headed to their new home at an aquarium in Nova Iguazu, Brazil via two different Boeing 777-200s.
The airline worked with Four Star Cargo to ensure the sharks arrived safely and on time. In order to ensure their health and safety, the sharks were housed in two special shipping tanks that weighed 4,850 pounds (2,200 kilos) and about 5,500 (2,500 kilos), respectively.
While bonnethead sharks are usually only about 3 to 4 feet (0.9 to 1.2 meters) long, sand tiger sharks can range in size from 6.5 to more than 10 feet in length (2 to 3 meters). The American Airlines Cargo team worked with the forwarder to ensure the animals had enough space and oxygenated water throughout the shipping process.
Just before takeoff, the shark tanks were carefully sealed and oxygenated to ensure a safe and comfortable journey. After the tanks were sealed by the customer, the American team placed and strapped them securely onto PMC units, which ensure stability of the tanks during flight and handling. Once prepared, the tanks remained in the cargo facility until right before departure.
"Our priority was to make sure that the sharks were safe and, of course, arrived on time in Brazil," said Wayne Zimmerman, director of Cargo Operations – MIA.