SF Airlines becomes a member of IATA
<p style="text-align: justify;">Feb 09, 2017: SF Airlines has become a member of the International Air Transport Association (IATA) with the new membership certificate awarded from the organisation on December 20, 2016.</p> <p style="text-align: justify;">The certificate awarding ceremony was held in SF Airlines HQ in Shenzhen.</p> <p style="text-align: justify;">To reach the international advanced level as early […]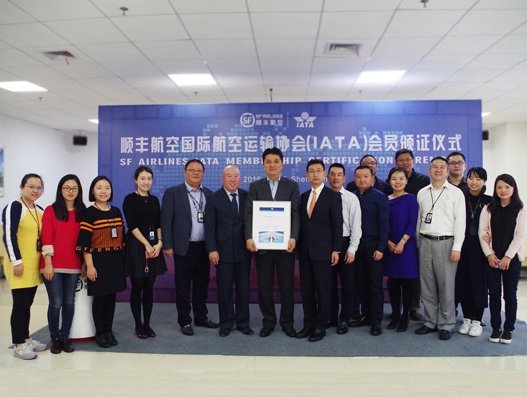 Feb 09, 2017: SF Airlines has become a member of the International Air Transport Association (IATA) with the new membership certificate awarded from the organisation on December 20, 2016.
The certificate awarding ceremony was held in SF Airlines HQ in Shenzhen.
To reach the international advanced level as early as possible, SF Airlines officially kicked off the IATA Operational Safety Audit (IOSA) in February 2016, and passed the IOSA with zero finding on November 10 to officially become a registered operator of IOSA, laying a solid foundation for SF Airlines' joining the IATA in December.
Becoming a member of the IATA is a brand new start for SF Airlines to go global for international exchanges and cooperation and further improve the safety operation quality and air transportation services.
In future, SF Airlines will actively fulfill its rights and obligations as an IATA member, actively participate in the exchanges and cooperation in the international air transportation market and strongly support the international business development of SF Group.
Zhang Baojian, regional vice president for North Asia and chief representative of IATA in China, Zhang Jingwei, regional head of Membership and External Relationship for North Asia of IATA and Liddel Li, president of SF Airlines attended the certificate awarding ceremony among others.