Sebastiaan Scholte and Steven Polmans take the helm as TIACA chairman and vice chairman
October 26, 2017: Sebastiaan Scholte, chief executive officer of Jan de Rijk Logistics, is the new chairman of air cargo association TIACA, with Steven Polmans, head of Cargo and Logistics at Brussels Airport Company (BAC), as vice chairman. Both were formally welcomed to their new roles at last week's Annual General Meeting, part of TIACA's […]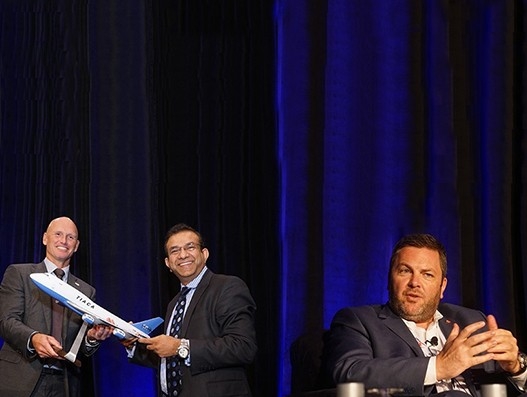 October 26, 2017: Sebastiaan Scholte, chief executive officer of Jan de Rijk Logistics, is the new chairman of air cargo association TIACA, with Steven Polmans, head of Cargo and Logistics at Brussels Airport Company (BAC), as vice chairman.
Both were formally welcomed to their new roles at last week's Annual General Meeting, part of TIACA's Executive Summit in Miami, Florida, USA.
Scholte, who has been TIACA vice chairman for two and a half years, takes over from Sanjiv Edward, head of Cargo Business, Delhi International Airport.
"TIACA is, and will be, the only organisation covering the whole air cargo supply chain, and in order to stay and become more relevant we will now work on becoming more agile and engaging more with our membership base," said Scholte.
"There is a need for more transparency and visibility across the supply chain and TIACA can play a role in facilitating this.
Scholte has worked in the air freight industry for over 20 years, including for Aeromexico, where he was vice president Sales. He held senior management roles with Cargolux for eight years from 2002 and took over as CEO at Jan de Rijk Logistics in 2010.
He holds a Global Executive MBA from the IESE Business School and has been Chairman of the Cool Chain Association.
"Collaboration and cooperation between all parties in the air cargo supply chain is the only way forward to solve many of today's issues," said Polmans.
"TIACA is the only organisation representing all of those different players, and we are the natural platform to facilitate genuine collaboration and work towards a more innovative and quality-driven industry."
Polmans has 20 years' experience in the air cargo industry and is also the chairman of Air Cargo Belgium, an initiative bringing together airlines, handlers, forwarders, the airport authority, and other stakeholders for the greater good of the community.
Prior to joining BAC, Polmans worked for ground handler Aviapartner, before moving on to logistics marketing specialist GLU4 BV, where he managed the company's Benelux operations.
He joined BAC in 2010 and was appointed head of Cargo in 2012.
TIACA is governed by its Trustee members who elect the Board of Directors to manage the Association's affairs and establish its policy. The chairman and vice chairman are elected by the Board. "TIACA is fortunate to have two such experienced Board members at the helm," said Vladimir Zubkov, Secretary general, TIACA.
Photo: From L to R: Incoming chairman Sebastiaan Scholte with outgoing chairman Sanjiv Edward; Steven Polmans speaks on a panel at TIACA's Executive Summit in Miami, Florida.