From Covid-19 Issue: Sealing cargo to secure workforce
When the air cargo sector flies during the pandemic, it is essential to protect the manpower striving 24x7 to deliver essential supplies around the world. TLX Cargo's WEB15 aims to seal cargo against viruses during transportation and aid in the fight against coronavirus.

Amid Covid-19, air cargo is the only active sector which has overcome all the barriers in delivering essentials and medical supplies across the world – even by operating its passenger aircraft as cargo-only planes.
As the pandemic begins to spread rapidly, the need to avoid infection through cargo covers also becomes a major concern.  TLX Cargo launched the world's first cargo cover - TLX WEB15 built from viral barrier material to aid in the fight against coronavirus. The cover fabric aims to seal cargo against viruses during transportation. Identifying customers' pain points, TLX Cargo's partner company Web Dynamics, designed TLX WEB15 - a breathable, waterproof and cargo cover built from the material that acts as a barrier to viruses between 0.1 – 0.2 microns.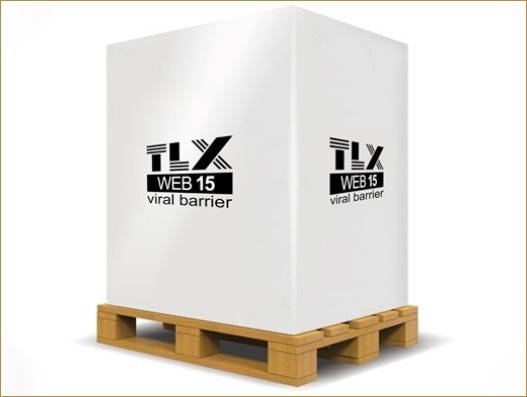 From SARS to Ebola to Covid-19, TLX Manufacturing has been producing viral barrier materials to support front line workers. TLX Manufacturing is the manufacturer of thin reflective insulation and viral barrier workwear. 
Thomas Hunt, commercial director, TLX Cargo states, "TLX Cargo developed the world's first cargo cover to have Phase Change Material (PCM) integrated into the physical fibre of the cover and this project took 2 years. We also invented TLX2 which a 100 percent recyclable cargo cover this took 1 year of R&D and the viral barrier cover took just 2 months as the product was already available with our factory."
Using PCM, nanotechnology and convection inhibitors, the materials built are waterproof, breathable with high reflectance and exceptional thermal performance for supply chain needs. The systems deliver 360° thermal protection without the risk of condensation and the need for accessories such as tape and scissors.  PCMs are ideal for thermal energy storage as they are highly cost-effective, stable and environment-friendly. They can be used for cold chain transportation or storage and temperature-controlled packaging for food and pharmaceuticals. 
TLX Cargo provides temperature-controlled packaging in a wide variety of sizes to fit all requirements, which is manufactured at its 40,000 square feet facility in Bolton, England.
Hunt who is also the director of TLX Insulation and TLX Manufacturing says, "The material has passed testing by Nelson Laboratories in Salt Lake City, US, the world's leading laboratory for viral barrier testing." The Web 15 fabric used in this new cover passed the Nelson test when the bacteriophage applied at a pressure of 14 kilopascals (2 pounds per square inch) failed to permeate from one side of the material to the other. The cargo cover is a two-part system involving a cover and base, sealed with tape and there is no stitching involved in the product.
TLX Cargo is part of TLX Manufacturing which has 20 years' experience as science-based manufacturing in support of TLX Insulation and Web Dynamics.
This feature was originally published in April 2020 Covid-19 Special Issue of The STAT Trade Times.