Seafood demand adds more flavour to global air cargo industry
Whether it is packaging or better thermal protection to track and tracing, cargo airlines are always monitoring what the industry is doing for cool chain logistics and how it can help with the best transportation of seafood.
Shalini Nair
The sumptuous Sushi cuisines served at Japan's Jiro or Londons' The Araki - doesn't make much of a difference for the guests whether it is imported through an air cargo or not. Thanks to the airlines, freight forwarders and airport operators who consider every minute details to deliver fresh seafood to their platter!
The world seafood consumption is projected to increase by 21 percent in 2025 to 178 million tonnes, with Asia accounting for 73 percent of the increase, states a report by OECD-FAO Agricultural Outlook 2016. At the same time, Norwegian government believes that the export of Norwegian seafood will grow by over 500 percent over the next 20 years. 
To bring in more regulations in terms of transporting seafood, the guidelines stated in the International Air Transport Association (IATA) Perishable Cargo Regulations (PCR) and specific requirements that are outlined for transporting Perishable Seafood (PES) is followed by the airlines carrying seafood. By following IATA PCR when moving perishable products requiring temperature control, the goal is to minimise exposure to extreme temperatures during transportation aligned with industry's best practices.
Setting standards
"The requirements from the shippers drive much on how seafood is packaged, which temperature range it is transported under and whether a specific container is used for this. For example, we transport seafood under the frozen category (-18°C) as well as under the cool category (2°C-8°C). For other specific temperature ranges, we offer a range of specialty containers and one such example of this is Envirotainer t2 container, which is used to transport seafood," said Dennis Lister, vice president - cargo commercial development, Emirates.
Even though the container is well equipped for seafood, the flow of transportation check doesn't end here - on board the plane pilots check the temperature of cargo holds containing temperature controlled cargo. Even seafood shippers can monitor the temperature of their shipments with trackers placed on shipments.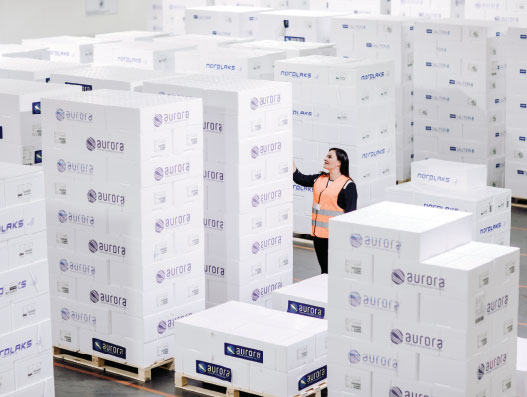 Irwan Majid, manager commercial sales & relationships, dnata Singapore said, "Transportation of seafood is similar to special cargo. We monitor temperature and ensure required settings in line with the relevant regulations. We are both GDP and IATA CEIV certified, which pertains to the transportation and storage of temperature sensitive cargo."
Meanwhile, the new 80 million euro COOL Nordic Cargo terminal at Helsinki Airport has experts on site 24/7 and there are digital sensors in the dedicated 3,000 square metre perishables area. This helps to keep track of when a shipment is in Helsinki hub or in transit. Fredrik Wildtgrube, Head - Global Sales, Finnair, opined, "Next to the aircraft stands of wide-body aircraft like the Finnair A350 is perishable area where seafood is stored in COOL, which means they only head out from the temp-controlled terminal 30 minutes before the plane departs. By reducing tarmac time, we give more layers of protection to high-value seafood heading to Asia. A considerable percentage of seafood that leaves Norway headed for lucrative and booming markets in Asia leaves Europe via Helsinki. It is trucked down by road from northern Norway because it is quicker to reach Helsinki than Oslo and Finnair has one of the best networks connecting Europe to Asia. We have also inspected the facilities and handling in Japan to ensure that it too matches the standards that shippers expect."
Asia is a huge market for Finnair Cargo and has seen steady growth. Rising purchasing power and demand for high-value goods, including high-end fresh products in Asian markets is apparent. Consumers want high-value fresh fish like salmon and the Norwegian seafood market is expected to continue growing strongly. Modern facilities and equipment combined with unique cargo control center (CCC) concept are also contributing to more efficient planning that link the supply chain stakeholders in a new way to make air cargo faster and more reliable.
Live transportation
As far as live seafood is concerned, the cargo needs to adhere to IATA's Live Animal Regulations, so the handling is specific to the type of animal being transported. It is notable that with the COOL terminal, the death rate of crabs is half of the rate in the wider market. Due to careful journey and handling, there are extremely low expiration rates of crabs' which means the shippers get significant savings every year as they get crabs to their desired destination alive. It is essential that there is communication between the truck driver and Finnair to make the transfer as smooth as possible.
Wildtgrube, said, "The crabs can survive about 35 to 40 hours from tank-to-tank and they are packed in either styrofoam or cardboard boxes with moist packing material to keep the gills wet. Time is crucial; a high punctuality standard with low cancellations, combined with a high service and performance level is crucial for transporting live crabs. The crabs are stored at low temperatures during transport, which relaxes them and reduces stress.
At the same time, Emirates has developed a specialised solution called the Emirates Fresh Ventilated Cool Dolly for the transportation of live seafood such as live lobsters and crabs under Emirates Fresh Breathe offering. The Ventilated Cool Dolly not only maintains a constant temperature while transporting cargo, but also has a ventilation system that allows it to bring in fresh air from outside. The fresh air is then cleaned using custom built filters, cooled and then circulated inside the refrigerated interior where the temperature sensitive perishable cargo is stored.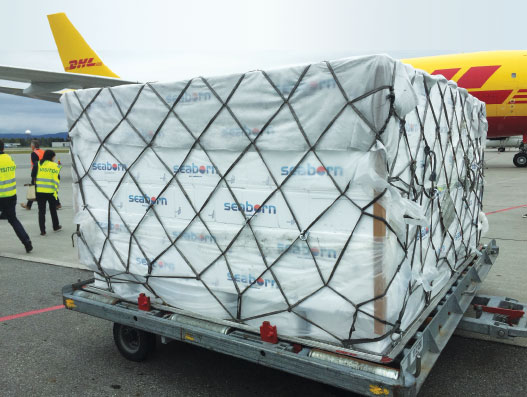 Encountering challenges
Seafood spoilage affects the entire appearance, odour and flavour of the product. If defects in the quality of frozen products at the time of delivery are considered to be a consequence of spoilage, then no blame can be attached to the carrier of the frozen goods unless it has been thawed out during the voyage. This situation cannot be explained better than a chef who deals with the final makeover of seafood. 
Sahil Desai, executive chef, Taj Holiday Village Resort & Spa in Goa said, "There are challenges in receiving quality seafood at times due to various reasons, i.e. import norms, which gets revised over a period of time. In such cases, the source of origin needs to comply with those norms by making necessary changes before they can be processed and sent, thus the supply leads to delay in delivery. As most of the supplies which we import are in frozen state, we keep adequate stock with us by holding them at controlled frozen temperature to avoid any hampering in our daily offering or operations. The cold storage facilities in India are also a challenge in terms of infrastructural assistance for importers to hold majors stocks with them to overcome such challenges." The chef states that they order for imported seafood from various sources, usually from Japan for the menu offering Sushi or Sashimi.
Rajani Ranjan, executive sous chef, Grand Hyatt, Mumbai stated, "We get chilled fresh salmon and smoked ones. Sometimes there are few quality issues in getting consistent product. Our vendors are Fortune Gourmet Specialties, Global Foods and Caspian Caviar."
Greater emphasis on temperature management and quality in the perishable market is becoming more and more important for reducing spoilage and waste. While there are pressures to control total landed costs, shippers recognise the importance of not compromising the quality of their product. With greater awareness and availability of passive packaging solutions and technology to increase visibility, there is improved transparency and accountability of all parties within the supply chain. Rob Flood, manager, cargo products business development, Air Canada, stated, "Cool chain logistics is one of the leading-edge markets due to the needs and requirements of the commodities being shipped – carriers must be equipped for and prepared to deal with extreme temperature variations from city-to-city worldwide and locally. For example, Toronto typically experience up to +40C in the summer, and -35C in the winter. We at Air Canada Cargo and our customers need to rely on the procedures and technologies at hand to keep products within safe limits of their commodity requirement."
The lead time is one of the most crucial factors. Commenting on challenges faced by air freight forwarder, Henk Venema, global head of network carrier management, DHL Global Forwarding, stated, "Transporting the seafood by plane allows us to cut the lead-time by more than 50 percent, and this shorter lead-time ensures that the seafood arrives at their destination in best order. Next to that, there is still a last minute fluctuation in volumes due to weather conditions or bad harvest conditions - this causes gaps in planning that need to be mitigated."
Evolving technology
Cool chain technology in logistics has evolved by leaps and bounds over the last decade. Whether for temperature sensitive pharmaceutical cargo or for perishables such as seafood, industry players have embraced the use of technologies such as dry ice, gel packs, passive packaging, temperature loggers, etc. The preferred way of transportation of cool chain shippers is still via the ocean. For airfreight, it has developed into a multi modal system and the demand for special containers is increasing. In addition, a growing number of airlines are developing cool temperature-controlled trucks to transport such product directly from the aircraft to the cool chain warehouse.
Over the years, Singapore has developed as a sophisticated cold chain distribution system.  Changi Airport's ground handling partners (SATS and dnata) have invested in specialised temperature-controlled facilities such as SATS Coolport and dnata Coolchain, in view of the long-term potential of perishables cargo trade in the Asia Pacific region. Lim Ching Kiat, MD of air hub development, Changi Airport Group, commented, "Majority of Changi's seafood throughput is transshipments, between Southwest Asia, Asia and intra-Asia. In 2017, there was a strong 28 percent year-on-year growth in seafood cargo volume handled at Changi Airport."
Speaking on the airports maintaining standards for seafood, Faisal Al Mulla, director, cargo business management, Dubai Airports opined, "We use latest technology, best practices and certified warehouses to ensure that every seafood shipment that reaches customers is handled in compliance with international standards. We also proactively provide our customers with information about the handling temperature of their shipments through continuous monitoring. As of March 2018, we handled 16,606 tonnes of seafood at DXB."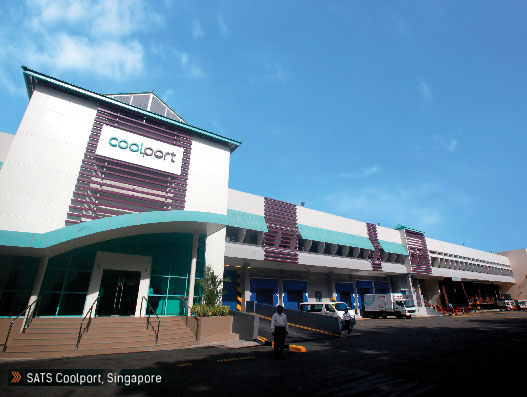 In both the Emirates SkyCentral cargo terminals at Dubai International Airport (DXB) and Dubai World Central (DWC), they have extensive cool chain facilities. The facility at DWC includes over 15,000 square metres of cool chain storage. They also have reefer trucks plying 24/7 between the two cargo terminals, transporting cargo from passenger aircraft to freighters and vice-versa, ensuring that the cool chain link is never broken. "We have developed a range of thermal blankets in partnership with DuPont. These include Emirates White Cover, White Cover Advanced and White Cover Xtreme and they all offer varying levels of protection against thermal radiation to maintain the temperature of cargo during ramp transportation. We also have agreements and partnerships with a range of container service providers, in case our customers wish to make use of other specialised containers to transport their cargo," said Lister.
With Norway and Oslo Airport already being the largest air cargo market in Northern Europe, Avinor will have a very important role in the massive expected growth of cool chain logistics. They transport limited amount of shellfish alive. The rest is mostly fresh salmon with an urgent need of being transported to the markets as fast as possible. At Oslo Airport, they are therefore facilitating expansions to industrialise air cargo logistics for fresh seafood.
Martin Langaas, director traffic development & cargo, Avinor states, "The beauty of salmon as air cargo is that it is all down to 23kg standard styrofoam boxes with ice and fresh fish inside. The potential for automation and standardisation is high. Since the beginning of May this year, Oslo has seen daily temperatures in the plus 30°C. This is of course creating issues for temperature sensitive seafood pallets as salmon. We need to be able to provide facilities on the airport that can provide a secured cool chain for the seafood. Further, attract airlines who can offer similar facilitates for seafood in transit through other hubs."
From farm to fork
As there is a strong demand for Canadian seafood in Europe and Asia, especially Atlantic lobsters from Halifax. Air Canada Cargo has a huge market demand from Vancouver to Asia, which is also driven by the demand for west coast fish like salmon, shellfish and geoduck, found throughout the Pugot Sound. The introduction of the Airbus 330 from Halifax to Montreal was done because of the demand for quick and efficient transportation of lobster to markets where Air Canada customers need their product as soon as possible, like Asia and Europe. They have also introduced a Montreal-Shanghai flight this winter – this is an ideal route for lobster, with the 330 connecting Halifax and Montreal every day. 
Langaas commented, "We see most of the seafood being transported as belly on intercontinental flights by airlines such as SAS, Norwegian, Emirates, Qatar, Ethiopian and Thai. In terms of freighters, Oslo is called by Atlas Air, Korean Cargo, Turkish Cargo, AirBridge Cargo, Qatar Cargo, Emirates Sky Cargo, DHL designated seafood freighters and CAL. We also expect to announce more capacity just over the summer."
The demand for Finnair service is driven by Japan and China. Asia accounts for around 75 percent of the cargo's revenue. Salmon goes from Norwegian water to plate in 36 hours by travelling over land to Helsinki, then a quick connection and onto Asia. This summer, they have started a new route to Nanjing and are trying to expand capacity to other key destinations like America. On top of that there is a deepening expectation from consumers the world over that what they demand reaches them instantly. "We are working on a very exciting internet of logistics project with Ericsson, Air France and Panalpina, which will improve data sharing and will help all customers, not only just seafood shippers," said Wildtgrube.
Future scenario
The future demand from Asia, especially China shows sign of continuing. There is always a room for improvement in technology, whether it is packaging or better thermal protection to track and tracing, cargo airlines are always monitoring what the industry is doing for cool chain logistics and how it can help with the best transportation of seafood. The export of seafood as air cargo from Norway has been growing 10-15 percent annually since last 15 years. Norway is one of the richest countries in the world with a high consumption of inbound air cargo products per capita. But the issue is the freight balance. Although they consume a lot, the outbound export of seafood is increasing so fast that there is an imbalance of 70:30. This gap will just increase with the export of seafood. As a result, most freighters serving Norway are utilising their seafood export as a one way market, filling their planes on their way back to Asia. 
Venema stated, "We want to target the high-end perishable markets, specialising in tailor-made and time critical services that require on-time and direct flights. Together with potential feeding services we can offer through our DHL Aviation network unmatched solutions that are cutting-edge. Next to deploying a brand new solution for live crabs from North Norway, we have also deployed a similar solution for lobsters from Nova Scotia and are further exploring the Canadian perishable market."
Market conditions are always changing and new export markets for seafood are emerging. The transformation is yet to happen with improvement in the last mile of logistics i.e. connecting, sharing data and making it readily available for customers and to track seafood shipments from end-to-end.