Scoot launches new in-flight portal ScootHub in preparation for post-Covid-19 travel
Easily accessed from customers' own mobile devices, it will help reduce surface contact and physical interactions between customers and crew.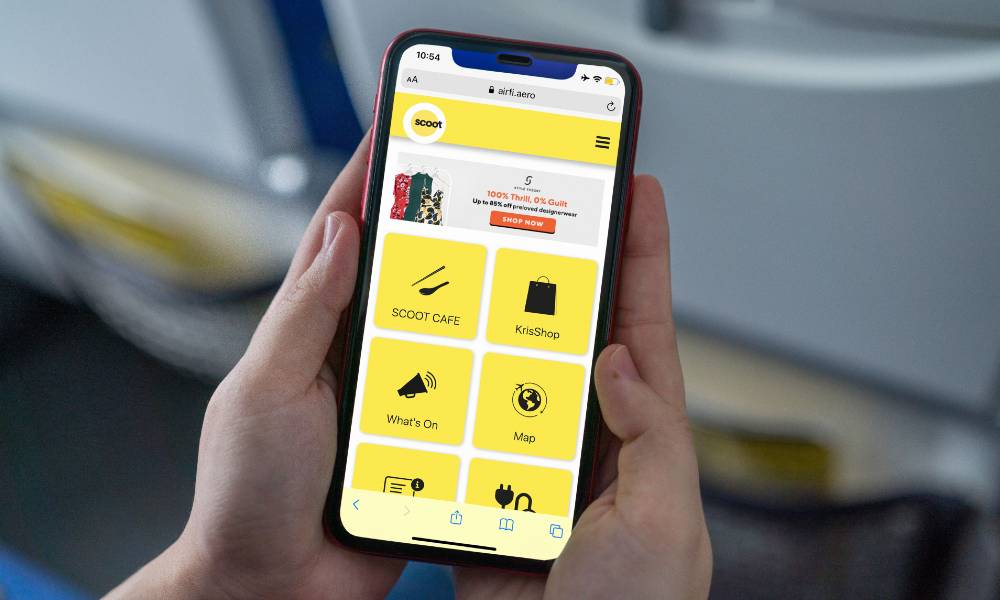 To better meet customer expectations in the post-Covid-19 world, Scoot, the low-cost arm of the Singapore Airlines Group, will be launching a new inflight portal, ScootHub, to serve as a one-stop shop for all customer needs inflight starting this December 2020.
ScootHub, which can be easily accessed from customers' own mobile devices, will be the first of its kind in the region to offer such diverse functionalities. Launching in phases commencing December 2020, Scoot customers will be able to order food and beverages from Scoot Café, shop for duty-free items from KrisShop, play games, browse inspirational travel content and more, all from the convenience of their own device.
This transition from physical to digital inflight menus, duty-free catalogues and magazines reduces surface contact and physical interactions between customers and crew, giving customers peace of mind about their health and safety on board. This reduced interaction also allows Scoot to resume some inflight services, such as buy-on-board food, which had been temporarily suspended.
In ScootHub's second phase, from April 2021, customers will be able to book ground activities and attractions while inflight. They can also sync their Krisflyer membership to earn or redeem miles when they purchase items via KrisShop or activities and attractions via Pelago, the SIA Group's new platform for destination inspiration and content. Scoot has a roadmap of additional features to be deployed in subsequent phases.
Campbell Wilson, Scoot's chief executive officer, said, "We know that health and safety are top of customers' minds these days, and that regulatory requirements have changed the inflight experience. ScootHub enables us to resume valued services in a safe, low-touch manner, improving customers' experiences and – through reduction in paper-based collaterals – improving our environmental sustainability too."
"Our investment in this portal is part of Scoot's comprehensive digitalisation programme, both internal and external, which also includes health-focused initiatives such as touchless check-in kiosks and bag-drop facilities, enhanced online and mobile check-in capabilities, and real-time information on travel requirements," he concludes.