Schiphol Airport's cargo volumes down by 8% in 2020
Inbound cargo volumes declined by 4.7 per cent to 754,361 tonnes in 2020 compared to 2019, and outbound cargo volumes decreased 11.7 per cent to 687,161 tonnes during the same period.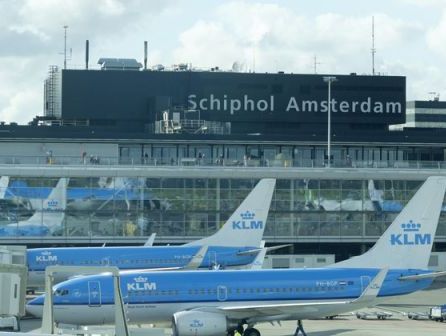 Amsterdam Airport Schiphol's total cargo volume for 2020 declined by 8 per cent to 1.44 million tonnes compared to 2019. Last year freight volumes were shipped in three categories of flights; full freighters, which accounted for 61 per cent of total volume, pax-cargo-only, which includes passenger flights with only freight on board at 10 per cent, and passenger flights at 29 per cent.
Inbound cargo volumes declined by 4.7 per cent to 754,361 tonnes in 2020 compared to 2019, and outbound cargo volumes decreased 11.7 per cent to 687,161 tonnes during the same period.
The three biggest destinations for cargo tonnage were Shanghai, China, Doha, Qatar, and Chicago, USA.
Supporting customers through Covid-19
"The 2020 figures are in line with our expectations given the challenging year we all had to face," said Patricia Vitalis, incoming director Airport Operations and Aviation Partnerships. She continued, "I am proud of our cargo community and our team at Schiphol, who have worked hard to continue supporting our customers through the pandemic in a constantly changing business landscape and for providing new routes for new cargo airlines to transport essential PPE consignments."
"The cargo community at Schiphol has focused on collaboration to find solutions including the launch of Vaccines Gateway Netherlands, which is a task force of more than 60 companies providing the swift, secure, and safe transportation of the Covid-19 vaccines. We will continue to work together to ensure that supply chains keep moving," she added.
Challenging times
Outbound traffic to the Asian region from Schiphol was down 8.21 per cent to 238,889 tonnes in 2020 compared to 2019, and inbound declined 0.58 per cent to 266,688 tonnes. The outbound North American market fell 8.27 per cent to 150,988 tonnes, while inbound was down 9.72 per cent to 101,132 tonnes. Cargo inbound to Latin America declined 10.84 per cent to 102,983 tonnes and outbound dropped 4.28 per cent to 72,899 tonnes. European figures show outbound traffic fell 28.62 per cent to 85,395 tonnes and inbound increased 0.01 per cent to 106,487 tonnes.
The Middle East market inbound showed a positive story as inbound was up 8.51 per cent to 101,014 tonnes, but outbound was down 9.28 per cent to 96,321 tonnes. Outbound traffic to Africa was down 17.67 per cent to 42,669 tonnes and inbound declined 21 per cent to 76,057 tonnes. Flower imports from Africa showed a dip in the first half of the year, but stabilised later in the year.
2020 successes and new beginnings for 2021
Last year, the airport accelerated our Smart Cargo Mainport Program, ensuring faster handling of export cargo, resulting in all ground handlers at Schiphol being ready for digital and/or electronic pre-notification in January 2021.
It also joined the Circular Plastics Alliance as part of our commitment to ensuring the flowers moving through our airport are shipped in a sustainable way. The Alliance has introduced standardised box sizes for flower consignments with the aim of reducing the product importers' carbon footprint by 25 per cent, whilst increasing their profitability by 25 per cent at the same time.
This year will see cargo team moving into a newly-established Aviation Business Development Division, putting all airline and cargo commercial and operational business in a single department and introducing new faces. Schiphol expects to share the new operational model with the Cargo Community once this is in place. 2021 will also see the continued modernisation of airport cargo information platform Cargonaut's Port Community System under the flag of Schiphol.