Saudia Cargo wins 'International Cargo Airline of the year in Africa' award
<p style="text-align: justify;">Feb 25, 2017: Saudi Airlines Cargo has been awarded International Cargo Airline of the year in Africa at Air Cargo Africa event held in Johannesburg.</p> <p style="text-align: justify;">The award was received by Saudia Cargo's VP Commercial Rainer Mueller & <a title="Saudia Cargo" href="http://www.saudiacargo.com/" target="_blank" rel="noopener noreferrer">Saudia Cargo</a> VP Operation Joseph Notter.</p> <p style="text-align: […]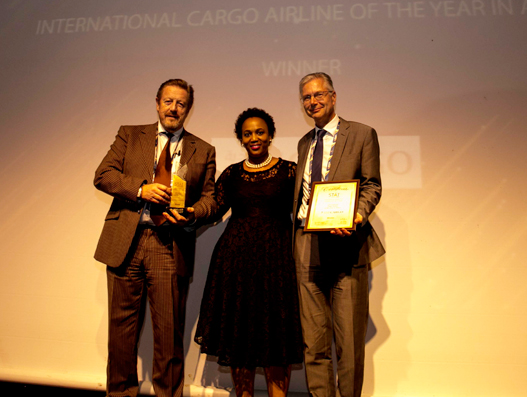 Feb 25, 2017: Saudi Airlines Cargo has been awarded International Cargo Airline of the year in Africa at Air Cargo Africa event held in Johannesburg.
The award was received by Saudia Cargo's VP Commercial Rainer Mueller & Saudia Cargo VP Operation Joseph Notter.
The team of Saudia Cargo - Africa lead by Ken Mbogo, regional director Africa and other members from Jeddah's headquarter marketing, pricing, ground handling and operation were also present to celebrate the joint efforts achieved.
The STAT Times International Award for Excellence in Air Cargo is an eminent annual event, which celebrates excellence and achievement in the air cargo industry. This award gives the team at Saudia Cargo a new challenge to continue improving the provided products and services in order to achieve a consistent pattern of growth that aligns with the strategy of the management.