Saudi Logistics Hub's roadshow in Tokyo cements ties with Japan
Dec 10, 2019: Government initiative Saudi Logistics Hub conducted its first global roadshow in Tokyo on December 5 at The Palace. In addition to the global roadshow, the Saudi Logistics Hub also met with three Japanese government entities to further discuss the logistics sector and explore investment opportunities in Saudi Arabia. After Tokyo, the roadshow […]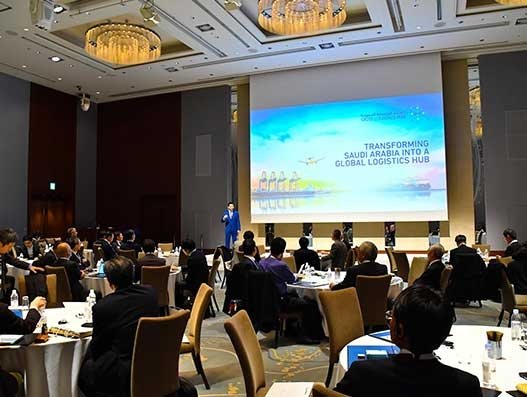 Dec 10, 2019: Government initiative Saudi Logistics Hub conducted its first global roadshow in Tokyo on December 5 at The Palace. In addition to the global roadshow, the Saudi Logistics Hub also met with three Japanese government entities to further discuss the logistics sector and explore investment opportunities in Saudi Arabia.
After Tokyo, the roadshow will travel to the UAE, Jordan, Egypt, China, Singapore, India and Germany, and aims to promote emerging investment opportunities in the country's burgeoning logistics industry.
The Saudi-Japan relations strengthened following the launch of the Saudi-Japan Vision 2030 in 2016. Since then, the two countries have incrementally built strategic synergies to reinforce trade ties and serve both their economies and future prospects. In 2018, Japan was Saudi Arabia's sixth-largest import market and second-largest export market. Japan's imports from Saudi Arabia accounted for US$33.8 billion, while its exports to the country were valued at US$4.1 billion for the same period.
Saleh bin Nasser Al-Jasser, minister of transport and chairman of the Saudi Logistics Hub said, "The transport and logistics sector in Saudi Arabia is undergoing a paradigm shift and enhancements to meet today's demands. Through the ongoing ease-of-doing-business reforms and investment initiatives, Saudi Arabia is set on a path to create a favourable trading environment. As one of Saudi Arabia's strongest trade partners, we look forward to leveraging our relationship with Japan to drive trade and investment cooperation, and will commit to enabling the country's transformation."
Saudi Arabia currently commands a 55 percent share of the logistics industry in the Gulf Cooperation Council region.