SAA's very first passenger freighter connects EU
SAA Cargo, which is the cargo division of South African Airways, for the first time operated a passenger aircraft for a pure cargo uplift, on April 6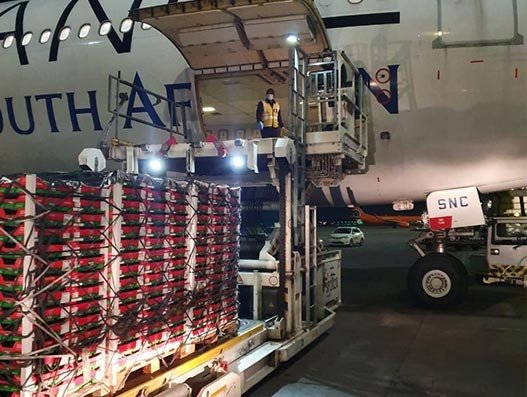 SAA Cargo, which is the cargo division of South African Airways, for the first time operated a passenger aircraft for a pure cargo uplift, on April 6, in response to the increased demand for cargo flights to distribute critical and essential goods during the coronavirus pandemic. The next pure cargo flight is scheduled to depart from Johannesburg to Guangzhou today (Friday, April 10). It will operate on the same aircraft type for collection and delivery of medical supplies.
SAA Cargo operated an Airbus A340-600 as a cargo only flight, transporting essential goods between Johannesburg and Frankfurt. The outbound cargo included perishables such as fish, fresh fruits and vegetables, laboratory supplies as well as automotive and aircraft parts for repairs.
On the inbound leg from Europe the aircraft landed in Johannesburg and the cargo included testing kits for COVID-19, immunological pharmaceuticals, insulin, surgical personal protective equipment (PPE), and processing equipment for food such as baby milk powder.
"SAA has demonstrated agility and we are working with our partners to provide them and our country with solutions that are relevant in these difficult times. The decision to deploy an A346, is based on both its capacity and range and so bolsters our freighter services during this time when there is high demand for cargo shipments," said SAA Cargo's acting general manager, Justice Luthuli.
SAA Cargo has stepped up as a trade facilitator and a solution provider to sustain supply chains to and from various countries. The solution is provided on a charter basis at the request of our customers, who are producers and suppliers of essential cargo. All flights are operated under strict operating procedures and in full compliance to COVID-19 civil aviation and health regulatory measures by both our staff and our customers.
"As a national carrier, we are pleased that we can contribute in response to our country's needs to bring in much needed medical supplies and other essential goods to assist in the fight against COVID-19. We extend our gratitude to all our employees for their commitment and service during this time," Luthuli concluded.