Royal Cargo delivers heaviest piece of cargo for Philippines power plant project
Sep 24, 2019: For Philippines' biggest coal-fired power plant project, Royal Cargo completed the discharging and delivery of the Unit 2 Steam Turbine Generator. The GNPower Dinginin Ltd. Co. (GNPD) Power Plant Project is a new project consisting of 2×660 MW supercritical coal-fired power plant located in Dinginin, Mariveles, Bataan. The shipment includes a huge […]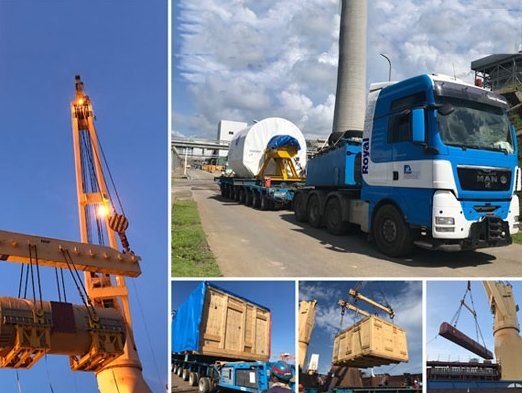 Sep 24, 2019: For Philippines' biggest coal-fired power plant project, Royal Cargo completed the discharging and delivery of the Unit 2 Steam Turbine Generator.
The GNPower Dinginin Ltd. Co. (GNPD) Power Plant Project is a new project consisting of 2×660 MW supercritical coal-fired power plant located in Dinginin, Mariveles, Bataan.
The shipment includes a huge ship unloader, MV BBC Amber carrying a total of 135 packages of generator equipment weighing approximately 1200 tonnes with 360 tonnes stator as the heaviest piece.
The Philippines-based logistics solutions provider handled the unloading operations at the jetty, offloaded all the heavy units by roll-off loaded at LCT Bigboy with capacity of 4000 deadweight tonnage and transferred of heavy cargoes from LCT to STG building at site using Self Propelled Transporter.
According to Jonathan Baldomero; Site Project manager, handling of these loads was a challenging task to the team considering that this equipment was vital to the completion of the power plant project.
The project was led by the competent people of Royal Cargo including Toddy De Roma, SVP for Projects and Heavylift; Lawrence Esteban, Heavylift manager; Jonathan Baldomero, Site Project manager, Cris Aguilos, Heavylift supervisor; Brando Ani, Site Supervisor and Projects and Heavylift's riggers and trailer operators.
The GNPD project will support the increasing electricity demand of Luzon and Visayas areas.