Robotics firm GreyOrange expands operations to US, opens US HQ in Atlanta
Aug 30, 2018: Robotics start up GreyOrange is starting its operations in the US with headquarters in Atlanta. The company has appointed Chris Barber to lead as Regional CEO, North America and oversee GreyOrange's expansion starting with the US, bringing supply chain innovation and streamlined solutions powered by AI to e-commerce, retail and logistics customers. […]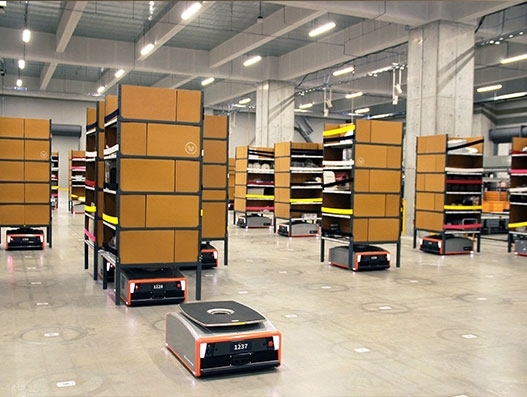 Aug 30, 2018: Robotics start up GreyOrange is starting its operations in the US with headquarters in Atlanta. The company has appointed Chris Barber to lead as Regional CEO, North America and oversee GreyOrange's expansion starting with the US, bringing supply chain innovation and streamlined solutions powered by AI to e-commerce, retail and logistics customers.
Barber joins from Honeywell Intelligrated where he served as vice president, Southern Operations. In his new role, Barber will oversee
The company has announced 50 new open positions across various departments.
In its first client site in the US, GreyOrange will deploy 740 robots in Atlanta and create several thousand jobs across this and other initial client sites. To further support its growth, GreyOrange has started setting up its local manufacturing facility in the US which will be completed in 2019. In the next three years, the facility plans to manufacture and deploy an additional 20,000 robots in the US.
Furthermore, GreyOrange is also opening a research and development (R&D) center in Boston, Massachusetts, to further expand its technology development capability and propel innovation in robotics logistics.
GreyOrange plans to build a team of more than 60 engineers for R&D in AI, human-machine interface (HMI), machine vision and data intelligence, adding to the current global team of 250 R&D engineers.
GreyOrange selected Atlanta and Boston for their respective reputations for excellence in supply chain and emerging tech.
The company now expands to US as the robotics segment of the materials handling equipment market expected to reach over $20 billion by 2024. Hence, the US is ripe for robotics innovation.
"Embracing robots, who work hand-in-hand with humans, enables our customers to boost overall productivity, minimise inventory waste, increase consumer choice and improve their company's bottom line. We strongly believe in preparing our customers for the future so that they focus on what they do best, without sacrificing their unique strengths," said Samay Kohli, CEO & Co-Founder at GreyOrange.
"Having built my career in the industry, I see a massive opportunity in the US to make robots widespread in the workplace; to increase worker safety and allow humans to do more meaningful work with support from their robot companions," said Barber. "I'm excited to join GreyOrange to fuel the robotic revolution in the supply chain industry."
The company mentions instances to demonstrate how it helps companies to run their supply chain more efficiently with its solutions such as Butler and Butler PickPal - an automated picking system. For one client in Japan, the company saw a 15 percent increase in warehouse storage efficiency and a 4x increase in throughput from the same warehouse. Another client in Latin America was able to fulfill 50 percent more orders while significantly reducing operational expenses.
The portfolio of GreyOrange solutions is powered by GreyMatter, the software platform that uses AI algorithms and machine learning to optimise path planning, maximize storage, streamline zoning, improve space utilisation and accelerate order fulfillment.