Robert Kasch appointed general manager cargo at Toowoomba Wellcamp Airport
Nov 22, 2019: Robert Kasch has been appointed as general manager at Queensland's Toowoomba Wellcamp Airport. "Following a thorough internal and external recruitment process, I am pleased to announce the formal appointment of Robert Kasch as general manager, Toowoomba Wellcamp Airport. Robert has been with the Airport now for nearly 2 years and brings to […]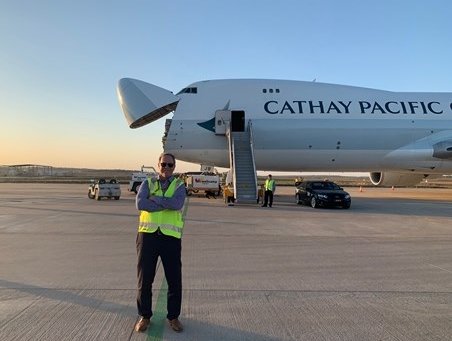 Nov 22, 2019: Robert Kasch has been appointed as general manager at Queensland's Toowoomba Wellcamp Airport.
"Following a thorough internal and external recruitment process, I am pleased to announce the formal appointment of Robert Kasch as general manager, Toowoomba Wellcamp Airport. Robert has been with the Airport now for nearly 2 years and brings to the role a wealth of experience in the air freight industry, as well as a detailed knowledge of the operations at Toowoomba Wellcamp Airport," said Damian Bell, executive general manager, Wagner Corporation.
Kasch started his career in the industry as a document runner at Sydney Airport and, in the mid-1990s was based in San Francisco working for MSAS Global Logistics in a route development role promoting trade from USA to Australia.
Over his 30-year career span, Kasch has worked for large multinational companies and small niche players in various roles both in Australia and the USA. Robert has also spent 10 years on the board of the Australian Federation of International Forwarders (AFIF) - an organisation dedicated to achieving uniform, high standards of professional conduct within the forwarding industry.
"It is a great to be leading a fantastic team during a time when a number of ground-breaking projects are set to come to fruition at the airport. Both freight and passenger opportunities at Wellcamp will continue to grow and open up the region in the years to come," said Kasch.
Kasch joined the team at Toowoomba Wellcamp Airport in May 2018 as commercial manager cargo. During his time in that role he grew freight volumes, brought global attention to the potential for imports and exports, particularly to Asia from Wellcamp. More recently, Kasch spearheaded the airport's contribution to the successful business case for the Regional Trade Distribution Centre to be established in Toowoomba. Wagner Corporation will be delivering the project comprising of world class cargo facilities at the airport, which will be purpose built to process premium export goods including beef, dairy products, fresh fruit and vegetables, pork and packaged nuts.