RIOgaleão Cargo renews IATA's CEIV Pharma certification
Nov 12, 2019: RIOgaleão Cargo has been certificated yet again by IATA's Center of Excellence for Independent Validators in Pharmaceutical Logistics (CEIV Pharma) for its pharma handling processes. RIOgaleão became the only airport in the Americas to gain the CEIV Pharma from IATA when it first got certified back in 2016. The re-certification reaffirms RIOgaleão's […]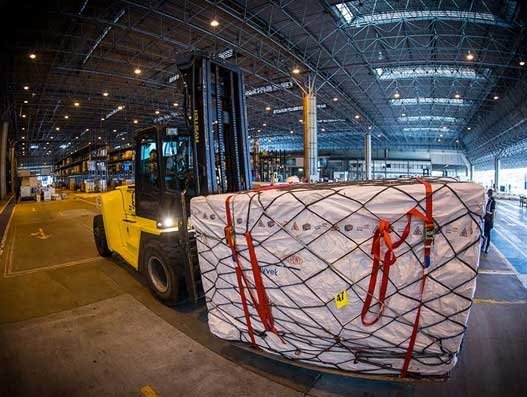 Nov 12, 2019: RIOgaleão Cargo has been certificated yet again by IATA's Center of Excellence for Independent Validators in Pharmaceutical Logistics (CEIV Pharma) for its pharma handling processes.
RIOgaleão became the only airport in the Americas to gain the CEIV Pharma from IATA when it first got certified back in 2016. The re-certification reaffirms RIOgaleão's good practices at its pharmaceutical terminal, infrastructure and storage processes. This includes processes that require temperature control apart from continual training of professionals.
IATA CEIV Pharma certification program, which is repeated once every three years, consists of a series of audits and technical training. For the recertification process, RIOgaleão Cargo's teams had to go through various trainings conducted by IATA regarding the latest trends to ensure high quality operations and specialization of the staff.
The training addressed key topics such as risk management, internal audit, non-conformity analysis, change management, operational controls and SLAs. All content has been revised based on Quality Management System requirements, and with full focus on meeting air cargo industry best practices for the storage, acceptance and handling of pharmaceuticals.
"The pursuit of excellence must be a permanent endeavor. The achievement of CEIV Pharma Recertification shows that we are keeping our focus on going the extra mile, always providing the best services to our customers, adopting the best practices in moving products in the pharmaceutical sector," said Patrick Fehring, Director of RIOgaleão Cargo.
IATA Validator Carmen Martínez, responsible for conducting the workshops 'Temperature Controlled Cargo Operations' and 'Audit, Quality and Risk Management for Temperature Control Cargo' was appreciative of RIOgaleão Cargo team's commitment in the recertification process.
The two workshops together totaled more than 64 hours of training, including theoretical content, group dynamics and technical visits to the temperature-controlled facilities of the terminals.
"It was a pleasure to share eight days of hard and enthusiastic work with the RIOgaleão airport staff. The team is committed to excellence and fully aware of the needs of pharmaceutical products and related services. Top management is also involved with the need for continuous improvement, and this course has demonstrated the interest in expanding and improving knowledge and experience sharing at all staff levels, which is extremely important to consistently meet pharmaceutical requirements," said Carmen Martinez.