Rhenus delivers 200 million medical items to EU, Asia
The Rhenus Group aims to deliver up to 200 million essential medical supplies to support relief efforts in several countries against the pandemic.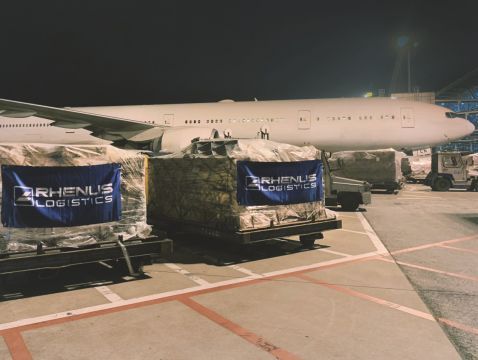 The Rhenus Group aims to deliver up to 200 million essential medical supplies to support relief efforts in several countries against the pandemic. The delivery of the medical supplies will be managed by Rhenus to countries including France, Italy, Djibouti and Canada.
Rhenus Greater China delivered the first batch of 100 million medical items to Europe, Africa and Canada in March and April 2020. In addition to surgical and N95 masks, the shipment included Covid-19 tests and personal protective equipment (PPE) to aid healthcare professionals in these countries. The office also delivered another 20 million masks to France and 922 kilograms of personal protection equipment to Myanmar in April 2020.
As governments around the world rapidly evolve their policies and measures to curb the pandemic, Rhenus has had to demonstrate fluidity and adaptability to overcome unprecedented logistics challenges, such as arranging dedicated charters to ensure the safe and punctual delivery of healthcare items. Backed by the logistics company's extensive supply chain network, Rhenus offices throughout the region worked around the clock to deliver a seamless experience to aid in the pandemic fight. Other efforts include:
Thorough sanitisation of all cargo and warehouses to minimise the possibility of

Covid

-19 infection to staff and recipients;
The arrangement of additional security guards to ensure that the cargo and delivery trucks are safe during the journey;
The extension of working hours for

Rhenus

Asia-Pacific offices and warehouses, which are now operational around the clock, to coordinate the process of all urgent deliveries.
"The logistics industry has seen unprecedented obstacles amidst the pandemic. Yet it is also opportune for us to rethink our way of working and emerge stronger. I am proud that our employees have shown exceptional resilience and creativity to leverage our long-established expertise and bring much-needed resources to front liners and those in need. In this global fight, we remain committed to provide the best and most reliable transport solutions and do our part to support our customers and the communities we are in," said Jan Harnisch, COO Rhenus Air & Ocean.
Other deliveries to boost relief efforts against Covid-19 include:
Rhenus

Indonesia delivered 62 tonnes of disposable medical masks to China and

Hong

Kong;

Rhenus

India supported the needs of the Indian Health Ministry and Red Cross to distribute 5 million essential medical equipment (including masks, ventilators, goggles, temperature meters and protective suits). They reached medical centres and hospitals across 60 locations in India;

Rhenus

Singapore delivered 3 million masks to the United States and Dominican Republic.
Rhenus offices in Japan, Myanmar, Philippines, and South Korea delivered N95 masks, thermal scanners, Personal Protective Equipment, handwash liquid and hand sanitiser, and disposable protective masks to customers in China, Myanmar, Hong Kong and the United States.