Respirators, health supplies reach RIOgaleao Airport from China
A new shipment of health supplies ordered by the City of Rio, landed on May 12 at the cargo terminal of RIOgaleão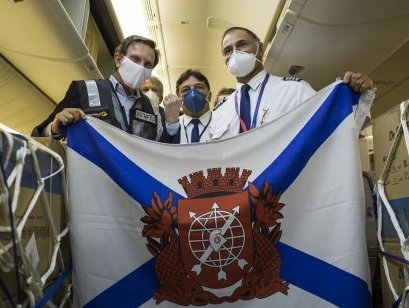 A new shipment of health supplies and equipment, ordered by the City of Rio, landed on May 12, 2020, at the cargo terminal of RIOgaleao, to reinforce the care to patients with Covid-19. LATAM's flight brought respirators, masks and monitors from China to Rio de Janeiro, among other essential items for the treatment of those infected with the new coronavirus. Altogether, approximately 20 tonnes were transported on that first flight.
Interior of the aircraft loaded with cargo
"The arrival of these respirators, monitors and all the equipment purchased for our municipal health units is wonderful news for the population of Rio. With this material, we will be able to equip our hospitals and open more beds for patients with Covid-19. We manage and, in the middle of last year, even before any sign of this pandemic, we made these and other purchases to renew our technology park. Altogether, there were 400 tonnes of fundamental health devices. The respirators, so necessary today, we buy for $12,000 each, and to pay in five years. But currently, each costs about $50,000. It is the price that other managers are paying. God willing, with this equipment arriving, we will soon lower the contagion curves and gradually return to normality," says Marcelo Crivella, mayor of Rio de Janeiro.
The transportation of 160 tonnes of medical devices purchased by the City of Rio de Janeiro will be carried out on six flights that must be operated by Boeing 777 passenger aircraft, adapted for the transportation of cargo, both in the cabin and in the aircraft hold, in order to maximize transport capacity. This first flight took off on May 7 to Cato, China. After loading the cargo, the aircraft returned to Brazil on May 12, making a stopover in Amsterdam.

Team working on unloading of cargo
In addition to the flight on May 12, another LATAM aircraft adapted for cargo transportation arrived at RIOgaleao Cargo on May 13. According to information released by the City of Rio, 306 respirators, 500 monitors will arrive in Rio de Janeiro on two chartered aircraft , in addition to millions of PPE units , including masks (surgical and common) and other protective items for health professionals.