"Relationships are more important now than ever," writes Batliwala
Air cargo industry is a people's industry even though it is in the business of moving cargo. Inherently, the small number of air cargo industry professionals world over, compared to the size of the passenger aviation industry, is very close-knit and personal relationships are still critical to the business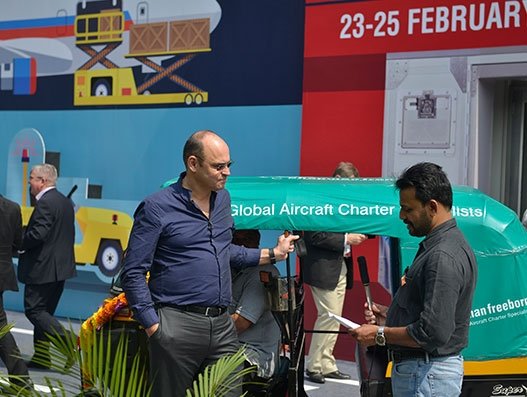 It is said that air cargo industry is a people's industry even though it is in the business of moving cargo. Inherently, the small number of air cargo industry professionals world over, compared to the size of the passenger aviation industry, is very close-knit and personal relationships are still critical to the business. The Covid-19 pandemic and the response of the global air cargo industry is beginning to demonstrate this fundamental value now than ever before.
"Long term relationships are more important now than ever," writes Russi Batliwala, the chief executive officer of charter broking firm Chapman Freeborn, in a letter addressed to his employees, customers, suppliers and partners.
Batliwala terms the current crisis as most challenging and turns to his colleagues spread across the world to thank them. "It is so very important to have a loyal, dedicated and hard-working team alongside you, working globally 24 hours a day. I am immensely proud that we have so many air charter professionals within our team, the majority of whom have been with us for at least a decade, many for much longer."
Various cargo charters done by Chapman Freeborn in the recent past

He writes: "We have always been in the business of long-term relationships, be it with our employees, our clients or our suppliers, and we see this as the key to a healthy business. Chapman Freeborn offices around the world are all currently incredibly busy, proactively providing solutions for many clients, both old and new. It is humbling to be part of such an exceptional team of experts."
Ever since the World Health Organisation (WHO) declared Covid-19 as a pandemic and countries began to go under lockdown, aviation took the hardest hit with countries after countries banning passenger flights both international and domestic. The demand for cargo and private charters went up exponentially. With vital healthcare supplies for Covid-19 mission around the world not finding enough cargo capacity because with the passenger flights ban went the belly hold capacity disappeared. Cargo charter brokers are struggling to fulfil the demand.
"This past few weeks has been exceptional and never before seen in the aviation world . It's not about to improve," writes Neil Dursley, Chief Commercial Officer (CCO) at Chapman Freeborn Airchartering, in a LinkedIn post.
Even Dursley goes on to thank airline partners who have supported Chapman's clients to receive the much needed medical supplies that the Covid-19 affected countries need.
Chapman's B747-400 freighters, operated by the group company Magma Aviation, are providing vital cargo lift around the globe carrying medical equipment, foodstuffs, humanitarian aid, and other urgent cargo for a variety of businesses. Additionally, Chapman is sourcing a considerable variety of freighter aircraft of all sizes, flying between hubs in China, Europe, the Middle East, the Americas and Africa.
"I want to say a massive thank you to everyone working within the Chapman Freeborn Group. I would also like to thank our clients, suppliers and partners who continue to confirm the value of our long-term relationships - during the good days and the bad days. Together we can provide value-adding solutions and support during this crisis," adds Batliwala, who joined Chapman Freeborn in 1987.
In 1973, Chris Chapman and Mike Freeborn established Chapman Freeborn. In 2017, Chapman Freeborn increased its stake in Magma Aviation to a majority shareholding to help support the company's long-term growth plans. In 2019, Chapman Freeborn was acquired by Avia Solutions Group, a global aviation holding company with subsidiaries engaged in aircraft maintenance, pilot training, ground handling and fuelling, aviation IT solutions and business aviation.