Race boat travels on Emirates SkyCargo craft from Auckland to Bermuda
<p style="text-align: justify;">Apr 13, 2017: Emirates SkyCargo has transported 'New Zealand Aotearoa' – Emirates Team New Zealand's race boat – from Auckland to Bermuda in advance of the Louis Vuitton America's Cup sailing competition which will begin in late May 2017.</p> <p style="text-align: justify;"><a title="Emirates SkyCargo" href="http://www.skycargo.com/english/" target="_blank" rel="noopener noreferrer">Emirates SkyCargo</a> transported Emirates Team New […]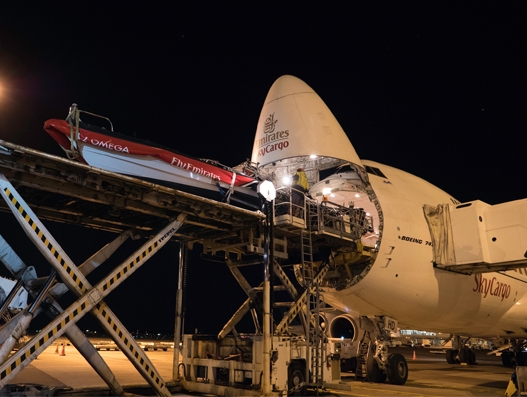 Apr 13, 2017: Emirates SkyCargo has transported 'New Zealand Aotearoa' – Emirates Team New Zealand's race boat - from Auckland to Bermuda in advance of the Louis Vuitton America's Cup sailing competition which will begin in late May 2017.
Emirates SkyCargo transported Emirates Team New Zealand's race boat and all associated support equipment including the team's chase boat. In order to facilitate the loading and air transportation process, the high-tech sailing boat had to be disassembled into smaller parts – two hulls, two wings, beams, rudders and other equipment. During the packaging process, metal frames were used to reinforce the packing to ensure that there would be no damage to the individual components during the transportation process.
The packaged components were then trucked from their base to the airport, security screened and then loaded on the aircraft. It took over four hours for the team to complete the loading process. Emirates SkyCargo's trained and experienced staff worked closely with the technical staff from Emirates Team New Zealand making sure that the loading went smoothly.
Emirates Team New Zealand's complete shipment weighed slightly over 44 tonnes. At over eight tonnes, the team's chase boat was the heaviest individual component in the shipment. The largest items in the shipment were the ship's two hulls which measured over 15 metres each in length.
Three ground crew from Emirates Team New Zealand travelled with the equipment onboard the Emirates SkyCargo freighter for the flight which lasted 18 hours and 50 minutes. The flight included a 90 minute stopover in Los Angeles for the aircraft to refuel and change flight crew before continuing its journey to Bermuda.
It will take Emirates Team New Zealand one week to put the boat back together after arrival in Bermuda. It would have taken close to 6 weeks to transport the boat over sea from Auckland to Bermuda.