FROM MAGAZINE: 'Qatarstrophe', weak demand dent Middle Eastern air cargo
The Middle East region is currently embroiled in one of its biggest diplomatic crisis in recent times. That, along with limited growth in demand, has had a rippling effect on the region's air cargo market. Surya Kannoth Middle East carriers' share of freight volumes during the first half of 2017 fell for the first time […]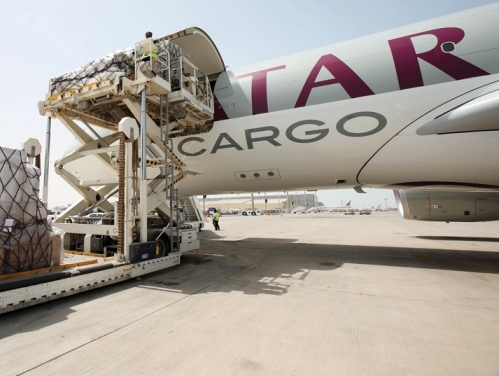 The Middle East region is currently embroiled in one of its biggest diplomatic crisis in recent times. That, along with limited growth in demand, has had a rippling effect on the region's air cargo market.
Surya Kannoth
Middle East carriers' share of freight volumes during the first half of 2017 fell for the first time in 17 years, according to data released by the International Air Transport Association (IATA).
The regional carriers' share dipped slightly to 13.9 percent, from 14 percent last year, IATA said. Freight volumes grew 3.7 percent year-on-year and capacity rose 1.5 percent in the first half of 2017.
Regional freight demand, measured in freight tonne kilometers, rose by 7.6 percent year-on-year in the first half, but below the 10.8 percent average annual rate over the past five years. "The slowdown in growth is mainly due to strong competition from carriers in other regions particularly on the Asia-Europe route rather than a significant decrease in demand which has continued to trend upwards at a solid rate of around 10 percent in annualized terms since early 2017," said the industry body in a statement.
"The region's carriers have not seen the strong pick-up in the seasonally adjusted traffic trend that has been apparent in the major regions over the past year or so," it added.
Brakes on growth
Middle Eastern airlines have benefited for years from high oil prices that spurred government spending and regional growth. But demand has softened after more than two years of depressed oil prices, exposure to weaker markets and currency fluctuations.
During a media briefing in March this year, on the sidelines of the IATA World Cargo Symposium in Abu Dhabi, Alexandre de Juniac, director-general and chief executive of the IATA, warned that airlines across the world need to "manage their assets cleverly."
Abu Dhabi-based Etihad reported a loss of $1.87 billion in 2016, blaming "one-off impairment charges and fuel hedging losses" for the massive loss. The airline's loss comes at a tough time for the Gulf's long-haul carriers, as a diplomatic crisis with Qatar forced a detour of regional air routes and Trump administration's travel ban hurt their business.
Peter Baumgartner, Etihad's new CEO, posed a bleak outlook. "We are in an industry characterized by overcapacity, declining market sizes on key routes and changing customer behavior as a weak global economy affects spending appetite," Baumgartner said in a statement.
Etihad attributed the loss to a $1.06 billion charge on aircraft reflecting lower market values and $808 million charge on certain assets and financial exposures to equity partners, specifically Alitalia and Air Berlin. It also blamed a slowdown in the cargo market and legacy fuel hedging costs for the loss.
According to Mohamed Mubarak Fadhel Al Mazrouei, chairman of the board of the Etihad Aviation Group, "A culmination of factors contributed to the disappointing results for 2016. The Board and executive team have been working since last year to address the issues and challenges through a comprehensive strategic review aimed at driving improved performance across the group, which includes a full review of our airline equity partnership strategy."
The past year has also proved tough for Etihad's UAE neighbour Emirates. Emirates airline reported its first full-year profit decline for five years as an erosion in travel demand delivered one of the Dubai carrier's "most challenging years to date". Profits plunged 82 per cent to $340 million for FY2016-17. The cargo division reported revenue of $2.9 billion, down 5 per cent over the previous year, although tonnage carried slightly increased by 3 per cent to reach 2.6 million tonnes.
Reports suggest that Emirates and Etihad are both reviewing their workforces. In fact, Emirates has asked Airbus to delay the delivery of 12 A380 jets over the next two years.
Qatar crisis
The only carrier that really stood out in terms of its performance was Qatar Airways, whose profits soared nearly 22 per cent during the last fiscal, making it the clear winner among the rest of its peers. In total, the airline reported $538 million in profits on $10.6 billion in revenue for the fiscal year that ended in March - up from the $443 million in profits the company raked in the previous year.
However, its bountiful profits may be shortlived thanks to mounting tensions between Qatar and its neighbours - Saudi Arabia, Egypt, the UAE and Bahrain. Accusing the gas-rich Gulf nation of support for "terrorism", the Saudi-led coalition have cut all diplomatic ties with Qatar. Yemen and Libya's eastern-based government also severed relations with the nation.
The result of this blockade has led to foreign firms being increasingly cautious on their cross border dealings over concerns they could fall foul of the region's biggest diplomatic crisis in years.
Major US companies hold significant investments in countries on either sides of the dispute. Saudi Arabia, the world's largest oil exporter, signed business deals worth tens of billions of dollars with US companies during US President Donald Trump's visit to Riyadh in May.
UAE and Qatar-based airlines are big clients for US aircraft manufacturer Boeing. Furthermore, Doha will be hosting the 2022 World Cup and is scouting for partners for a huge expansion of its gas production.
Some companies have stepped up action to restructure their Middle East operations so that Qatar no longer reports to their regional headquarters, often located in Dubai, in a bid to avoid any conflict.
As for Qatar Airways, the blockade means the airline is forced to reroute its Africa-bound flights to avoid the Arabian Peninsula and also to North America – a process which involves significant higher spends on fuel. In addition, daily flights to Saudi Arabia and other countries in the UAE to and from the country comprise a significant market for Qatar Airways. This is expected to have a direct impact on the profitability for the Doha-based airline.
Now with tables turned for the star Gulf carrier as well, it needs to be seen how the Middle Eastern powerhouses will grapple and wade through the current economic and political instability.
The silver lining
While the shaky geopolitical and trade conditions keep the Middle Eastern cargo carriers on tenterhooks, it is their focus on specialized offerings for different sectors, which will help them gain ground. Carriers are now working in tandem with shippers and forwarders to understand their needs and requirements. For instance, Emirates has redesigned several product offerings for pharmaceuticals, perishables and automobiles. While Emirates SkyPharma ensures secure transportation of temperature sensitive pharmaceuticals, Emirates SkyWheels caters to premium and luxury cars and Emirates SkyFresh ensures fresh perishables transportation.
Meanwhile, Etihad runs a service which specializes in the transport and delivery of horses, expansion plans of which are on the anvil. Saudia Cargo is also upping its services and product offerings with an aim to improve its quality of service to its customers. Pharma, being a siginificant growth driver for the carrier, it is enhancing its use of latest technology to offer temperature-controlled solutions for the pharma shipper. Saudia Cargo has also invested on specialised containers with varying temperatures suited for goods being transported.
QR Pharma is Qatar Airways Cargo's specialist product developed for pharmaceuticals and healthcare cargo, which offers both active solutions to maintain a consistent temperature throughout the transportation chain, as well as passive solutions that handle products within a desired temperature band during all stages of the journey.
Recently, it signed an agreement with DoKaSch Temperature Solutions to offer its Opticooler range of temperature-controlled containers, providing Qatar Airways Cargo customers the choice of a range of active containers to transport their pharmaceuticals across the cargo carrier's extensive global network.
The cargo carrier also recently announced the launch of its brand new Climate Control Centre, a 2,470 square metre airside transit facility for temperature-sensitive cargo. The facility features two temperature-controlled zones operating at both 2 to 8 and 15 to 25 degrees celsius with a capacity to hold a total of 156 ULDs (unit load devices) at a time. Segregated sections within the facility enable storage of pharmaceutical products in compliance with 'Good Distribution Practice' (GDP) guidelines. To ensure complete temperature integrity, the facility is equipped with six truck docks, each with inflated curtains and an anteroom as a staging area.
Such new investments in specialized services for niche sectors, along with new route expansion plans will help bail out Middle Eastern carriers from the current crisis.