Qatar moved 50,000 tonnes of critical supplies in a pandemic month
Qatar Airways Cargo has transported over 50,000,000kg of medical and aid supplies to impacted regions around the globe.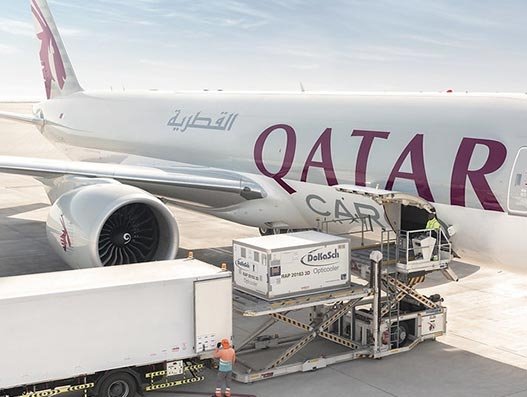 Qatar Airways Cargo is operating freighters and freight-only passenger aircraft to ensure the continuity of global trade and transportation of essential supplies to where they are needed during this critical time. In the past month, the airline has transported over 50,000,000kg of medical and aid supplies to impacted regions around the globe. This equates to roughly 500 fully loaded Boeing 777 freighters.
Qatar reported that additional capacity has been introduced to cities such as Shanghai, Guangzhou, Paris, Amsterdam, Muscat, Kuwait, Delhi, Beijing and Melbourne. And that it also continues to work closely with governments across the globe to operate freighter charters to support State efforts to bring in humanitarian aid and essential supplies.
Qatar Airways group chief executive, Akbar Al Baker, said: "Now, more than ever it is important to support global trade that ensures the supply of essential goods and vital aid worldwide. I am thankful to the airport authorities, ground handlers, cargo agents and governments around the world who have helped us increase our services to fulfil the demand for time sensitive freight.
He added "I also want to thank many of our long standing commercial customers that have supported us to prioritise humanitarian relief shipments to badly affected regions over their existing commercial arrangements. We are all in this together and are glad to be of service to communities around the world during this difficult time."
To ensure the safety of crew and cargo, Qatar has implemented special procedures for ground handling to ensure minimum contact between staff and adherence to social distancing guidelines are met. All of the company freighters and passenger aircraft are equipped with face masks, gloves and hand sanitisers for our crew and all the crew and staff are screened regularly.
Qatar Airways is maintaining the highest possible hygiene standards, which include the regular disinfection of aircraft, the use of cleaning products recommended by the International Air Transport Association (IATA) and the World Health Organization (WHO), and robust staff training. Qatar Airways Cargo utilises its full freighter fleet as per schedule and operates belly-hold cargo flights to destinations where possible.