Qatar Airways to increase frequency to Bangkok from June this year
<p style="text-align: justify;">Apr 26, 2017: Qatar Airways plans to introduce a fifth daily nonstop service from Doha to Bangkok from <span data-term="goog_1325097155">June 1, 2017</span>. The new daily flight will be served by the Boeing 787 Dreamliner.</p> <p style="text-align: justify;">The increased frequency, along with its double-daily Phuket flights and the five-month-old Krabi operations (four flights a […]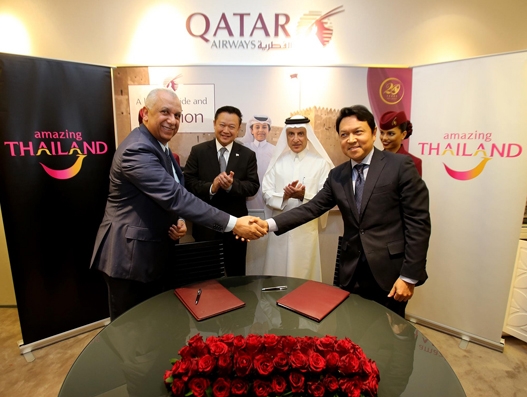 Apr 26, 2017: Qatar Airways plans to introduce a fifth daily nonstop service from Doha to Bangkok from June 1, 2017. The new daily flight will be served by the Boeing 787 Dreamliner.
The increased frequency, along with its double-daily Phuket flights and the five-month-old Krabi operations (four flights a week), will take the number of weekly Qatar Airways departures from Thailand to Doha to 53.
In tandem with its expansion into Thailand, Qatar Airways has signed a Memorandum of Understanding (MoU) with the Tourism Authority of Thailand (TAT) to come together and boost inbound tourism to Thailand.
Akbar Al Baker, Group chief executive, Qatar Airways, said "Boosting our Bangkok flight frequency to five daily flights is a significant commitment from us to the Thai market and testament to the strong year-round demand on this iconic Far East route. We are delighted to be able to dedicate additional capacity to Thailand, providing even more flexibility and convenience for our passengers travelling to and from the Land of Smiles.
"Bangkok has long been a hugely popular destination for both business and leisure travellers. The partnership with the Tourism Authority of Thailand allows us to jointly work together to attract more travellers from secondary cities in Europe, the Middle East and Africa to experience the warm and gracious hospitality Thailand is renowned for."
Under the MoU, Qatar Airways together with TAT will put in place joint marketing strategies and practices to increase visibility and tourism to Thailand.
A fifth daily flight to Bangkok will provide seamless connectivity with more flights from some of Thailand's key tourist source markets in Europe such as the United Kingdom, Italy and also the Middle East. Across the board, there is also continued strong demand for leisure travel on the Bangkok route all year-round.
In addition, passengers travelling to other domestic points in Thailand can connect seamlessly with the Bangkok Airways codeshare flights to Chiang Rai, Udon Thani, Koh Samui, among others.
For 2017, TAT has set a target of 34.5 million international visitors and some 1.81 trillion baht (USD 50 billion) in international tourism receipts – this represents a 10 percent year-on-year increase.
Thailand, one of Qatar Airways' earliest destinations in the Far East, has grown from strength to strength in the last two decades. Besides the existing three popular Thai destinations, Qatar Airways has also set its sights on Chiang Mai, the largest city in Northern Thailand.
Photo: Signing of MoU by Ehab Amin, Qatar Airways and Tanes Petsuwan, TAT Deputy Governor for International Marketing Europe, Africa, Middle East and Americas.