Qatar Airways and Qatar Tourism Partnership offers free stopover for Doha transit passengers
<p style="text-align: justify;">May 03, 2017: Qatar Airways has launched a unique stopover package in collaboration with Qatar Tourism Authority (QTA) to promote and market Qatar as a destination of choice for international travellers, offering transit passengers the opportunity to discover Doha with free luxury hotel stays and complimentary transit visas. The unique offer is part […]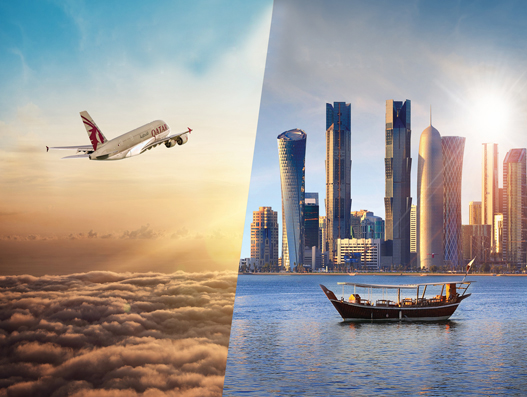 May 03, 2017: Qatar Airways has launched a unique stopover package in collaboration with Qatar Tourism Authority (QTA) to promote and market Qatar as a destination of choice for international travellers, offering transit passengers the opportunity to discover Doha with free luxury hotel stays and complimentary transit visas. The unique offer is part of a broader campaign called +Qatar which looks to encourage all transit passengers to consider adding Qatar to their itinerary.
This exclusive offer from QTA and Qatar Airways allows passengers travelling through Doha to experience a taste of the Middle East for free. Throughout the summer, the national carrier, with the support of QTA, will give passengers the chance to turn a layover into a stayover by offering four and five-star hotel accommodation at no charge to those transiting through Doha. The promotion invites all Qatar Airways passengers to add Doha to their vacation by taking advantage of a free one-night hotel stay from a selection of the country's best four- and five-star hotels in the capital, Doha.
Qatar Airways Group Chief Executive, His Excellency Akbar Al Baker, said: "Qatar Airways is more than just a national flag-carrier for Qatar; we want to share Qatar's many exciting attractions with our passengers from around the world. This exclusive initiative provides the opportunity to add an extra element to our passengers' existing travel plans with a complimentary hotel stay in some of Doha's finest hotels."
Chief Tourism Development Officer, Qatar Tourism Authority, Hassan Al-Ibrahim, said: "It was a great source of pride for all of us in Qatar when we launched the transit visa last November. We have already seen a surge in stopover passengers, with a 53 percent increase recorded in March 2017, compared to the same month last year. With the launch of +Qatar, we aim to convert a larger portion of the 30 million passengers passing through Hamad International Airport into stopover visitors.."
Passengers transiting through Doha can extend their stay to make the most of their journey taking in the sights of Doha with an entirely free night courtesy of Qatar Airways and QTA or stay a little longer with a second night's stay for a modest $50 booking fee. Passengers can choose from hotels such as The Four Seasons, Marriott Marquis, Radisson Blu and Oryx Rotana. The free hotel accommodation, available throughout the summer, will offer passengers the opportunity to explore Doha and experience city tours, desert safari adventures or a dinner cruise aboard a traditional dhow, giving visitors a taste of authentic Arabian hospitality, courtesy of Discover Qatar.