Qatar Airways opens new Amman office
Sep 3, 2019: This Monday Qatar Airways celebrated the launch of its new offices in Amman, Jordan. The celebration was attended by the Transport Minister of Jordan, Anmar Khasawneh and Qatar Airways Group chief executive, Akbar Al Baker. This crucial step will spur a series of Qatari investments in the Kingdom, said Anmar Khasawneh, welcoming […]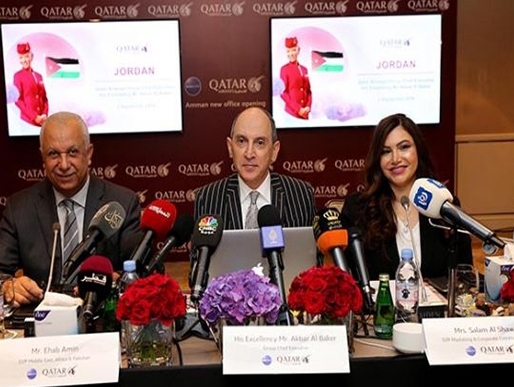 Sep 3, 2019: This Monday Qatar Airways celebrated the launch of its new offices in Amman, Jordan.
The celebration was attended by the Transport Minister of Jordan, Anmar Khasawneh and Qatar Airways Group chief executive, Akbar Al Baker.
This crucial step will spur a series of Qatari investments in the Kingdom, said Anmar Khasawneh, welcoming the opening of new offices of the Doha-based airline.
Khasawneh further spoke of the distinguished relations between Jordan and Qatar, underscoring the importance of overcoming all obstacles and challenges impeding meaningful partnerships between the two countries with regards to the transport sector.
At the media roundtable held on Sept 2, Akbar Al Baker said: "Jordan is an integral market for Qatar Airways, where we operate three daily flights to Amman using wide-body aircraft, including the state-of-the-art Airbus A350. The opening of our new offices in the Kingdom comes as a response to the growing demand for quality flights, in addition to serving as further confirmation that Qatar Airways has become the airline of choice for discerning travellers from Jordan. We are looking forward to further enhancing our offerings and services in Jordan and are certain that the launch of our new offices will help us achieve our goal."
Qatar Airways launched its first flight to Amman in 1994. Since then, Amman has consistently been one of the airline's primary destinations, with 21 weekly flights (three flights per day) from Doha to the Jordanian capital.
Qatar Airways entered into a codeshare agreement with Royal Jordanian Airlines in 2015, allowing both airlines to reach various additional destinations around the world. The agreement recently expanded to allow passengers to fly to East Asia through Hamad International Airport.
Other notable figures who attended the ribbon-cutting ceremony include the Ambassador of Jordan to Qatar Zaid Al Lozi, chairman of the Board of Commissioners of the Civil Aviation Regulatory Authority of Jordan Captain Haitham Misto; and interim Charge d'affaires of the Embassy of the State of Qatar to Jordan His Excellency Abdulaziz bin Mohammed Khalifa Al Sada.
The ceremony was also attended by several senior officials and VIPs, including Minister of Tourism and Antiquities of Jordan, Majd Shweikeh, and the Minister of Digital Economy and Entrepreneurship of Jordan, Mothanna Ghairaibeh.
The airline recently launched flights to Rabat in Morocco, Izmir in Turkey, Malta, Davao in the Philippines, Lisbon in Portugal and Mogadishu in Somalia. Plans are currently underway to launch flights to Gaborone in Botswana in October 2019.