Qatar Airways inks new codeshare pact with LATAM Airlines
Oct 15, 2019: Qatar Airways has announced an expanded codeshare agreement with LATAM Airlines Brazil, with immediate effect. The bilateral codeshare will provide Qatar Airways passengers with connections to destinations throughout Brazil and South America including Rio de Janeiro, Brasilia, Curitiba, Lima and Bogota to name a few. LATAM passengers will also be able to […]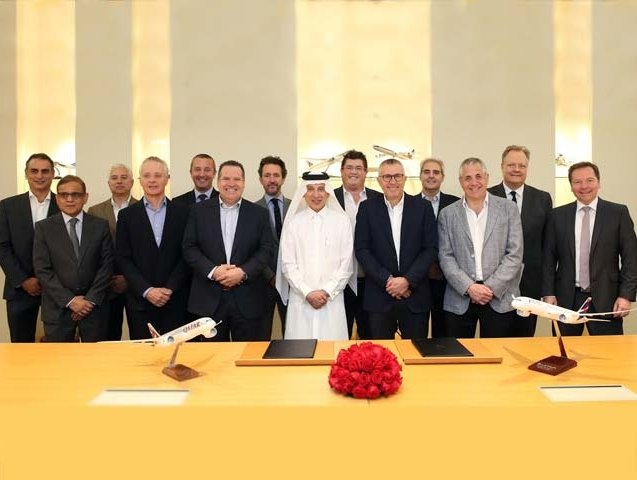 Oct 15, 2019: Qatar Airways has announced an expanded codeshare agreement with LATAM Airlines Brazil, with immediate effect. The bilateral codeshare will provide Qatar Airways passengers with connections to destinations throughout Brazil and South America including Rio de Janeiro, Brasilia, Curitiba, Lima and Bogota to name a few.
LATAM passengers will also be able to travel on Qatar Airways' flights between Sao Paulo (GRU) and Doha (DOH), offering onward connections to more than 25 destinations in the Middle-East, East Africa and South Asia, including Vietnam, Malaysia and Singapore.
Qatar Airways first began flying to Brazil in 2010 with a service from Doha, Qatar to Sao Paulo, Brazil that connects onwards to Buenos Aires, Argentina. In August 2017, Qatar Airways announced a unilateral codeshare agreement with LATAM Airlines Brazil, expanding Qatar Airways' virtual network in Brazil.
Qatar Airways group chief executive, Akbar Al Baker said, "We were delighted to welcome LATAM's board and senior management to Doha and to have had such productive discussions about how we can continue to work together to benefit our millions of passengers and cargo customers. Since 2017, Qatar Airways has witnessed the significant benefits that codeshare cooperation has brought, providing passengers with unrivalled service and a seamless connection between South America and the Middle-East and Asia. The expansion of the codeshare agreement between Qatar Airways and LATAM Airlines Brazil will provide even greater connectivity for passengers of the World's Best Airline and the Best Airline in South America."
LATAM Airlines Group CEO, Enrique Cueto, said, "We thank Qatar Airways for inviting us to Doha to hold our board meeting and visit its state-of-the-art facilities. We had productive meetings and had the opportunity to learn about the products and services that make it one of the world's leading airlines for customers.
Akbar Al Baker, Qatar Airways Group Chief Executive and Enrique Cueto, LATAM Airlines Group CEO

A multiple award-winning airline, Qatar Airways was named 'World's Best Airline' by the 2019 World Airline Awards, managed by international air transport rating organisation Skytrax. It was also named 'Best Airline in the Middle East', 'World's Best Business Class' and 'Best Business Class Seat', in recognition of its ground-breaking Business Class experience, Qsuite.
Qatar Airways is the only airline to have been awarded the coveted "Skytrax Airline of the Year" title, which is recognised as the pinnacle of excellence in the airline industry, five times.
Qatar Airways currently operates a modern fleet of more than 250 aircraft via its hub, Hamad International Airport (HIA) to more than 160 destinations worldwide. The airline has added a number of new destinations to its extensive route network in 2019, including Izmir, Turkey; Rabat, Morocco; Malta; Davao, Philippines; Lisbon, Portugal; Mogadishu, Somalia and Langkawi, Malaysia.
LATAM Airlines Group serves 143 destinations in 25 countries, providing international connectivity to many of South America's unique destinations.