Qatar Airways inaugural flight lands at Dublin Airport
<p style="text-align: justify;">Jun 13, 2017: Dublin welcomed the first <a title="Qatar Airways" href="https://www.qatarairways.com/en-in/homepage.html" target="_blank">Qatar Airways</a> flight from Doha, inaugurating the new daily service that connects Dublin to the world.</p> <p style="text-align: justify;">The Doha based airline flew its next-generation Airbus A350 aircraft to <a title="Dublin" href="https://www.dublinairport.com/" target="_blank">Dublin</a>, giving VIP guests and key media the opportunity to […]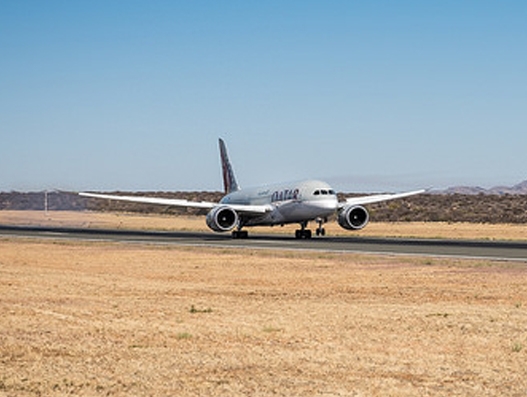 Jun 13, 2017: Dublin welcomed the first Qatar Airways flight from Doha, inaugurating the new daily service that connects Dublin to the world.
The Doha based airline flew its next-generation Airbus A350 aircraft to Dublin, giving VIP guests and key media the opportunity to tour the state-of-the-art aircraft. This was the first time a commercial passenger Airbus A350 aircraft has landed on Irish soil and the feedback from those on board was extremely positive.
Going forward, Qatar Airways will operate its daily Dublin service with a Boeing 787 Dreamliner, which has a two-class configuration including 22 seats in Business Class and 232 seats in Economy Class.
The new direct flights to Dublin will also provide Qatar Airways Cargo customers 80 tonnes of belly-hold capacity each week. Temperature-controlled products are the major exports out of Ireland and the cargo carrier is proficient in supporting air logistics through its specialist solutions QR Pharma, for pharmaceuticals and QR Fresh, for perishables. Customers are offered a seamless cool chain transfer for their temperature-sensitive products via the state-of-the-art and fully automated hub in Doha. Its facility at Hamad International Airport is wholly compliant with both IATA Chapter 17 standards and Good Distribution Practice (GDP).
Akbar Al Baker, Group chief executive, Qatar Airways, said, "The new service will connect the Irish people with more destinations globally and provide them the opportunity to experience our five-star service. We look forward to welcoming our new passengers on board and to connecting them to Doha and beyond."
The launch of the new route to Dublin will be Qatar Airways' first-ever service to the Republic of Ireland, giving passengers easier access to the Middle East, Asia and Australia, with seamless connections to Sydney, Hong Kong, Melbourne and many more attractive destinations.
In partnership with Qatar Tourism Authority, Qatar Airways has recently rolled out the +Qatar campaign, which gives Irish passengers the chance to book a complimentary hotel stay in some of Doha's finest hotels as well as obtaining a free transit visa.
The airline has also made its presence in the market felt with key sponsorships at exciting events around the city, including the Dublin Horse Show and the Darley Irish Oaks Day at the Curragh Racetrack. These partnerships celebrate the shared Irish and Qatari affinity for horses.
Following the Dublin launch, Qatar Airways will be adding flights to many more exciting destinations to its network in 2017 and 2018, including Abidjan, Ivory Coast; Accra, Ghana; Canberra, Australia; Chiang Mai, Thailand; Chittagong, Bangladesh; Mombasa, Kenya; and Utapao, Thailand.