Qatar Airways exults a successful year of growth and network expansion
December 28, 2017: Qatar Airways%u2014the national carrier of Qatar has surpassed its expectations yet again in 2017 by expediting new routes, increasing frequencies and introducing its award-winning new business class seat, Qsuite. According to reports, the airline enjoyed a record-breaking year, obtaining over 50 awards across multiple categories, including prestigious Skytrax %u2018Airline of the Year%u2019 […]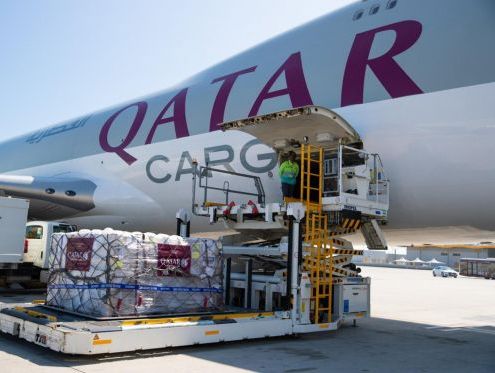 December 28, 2017: Qatar Airways%u2014the national carrier of Qatar has surpassed its expectations yet again in 2017 by expediting new routes, increasing frequencies and introducing its award-winning new business class seat, Qsuite.
According to reports, the airline enjoyed a record-breaking year, obtaining over 50 awards across multiple categories, including prestigious Skytrax %u2018Airline of the Year' award. It also celebrated its 20th anniversary throughout 2017.
Despite a challenging regional environment, the airline continued to deliver beyond expectations throughout 2017, accelerating new routes, doubling frequencies and capacity to numerous destinations and launching its award-winning new business class seat, Qsuite.
At a time when several airlines are scaling back, Qatar Airways continued to thrive, showcasing to the world its award-winning, best-in-class cabins, catering, in-flight entertainment, on-board magazine, lounges and more.
Qatar Airways group CEO Akbar Al Baker said: "This year, our twentieth anniversary as an airline, is particularly special for us. As we reflect on our achievements, we reaffirm our commitment to providing excellence in the skies, ensuring that our passenger's holiday or leisure trip starts the moment they step onto one of our aircraft. We remain committed to expanding our global network, and to taking our passengers anywhere in the world they wish to go."
"After twenty years of service, we vow to never rest on our achievements, but rather to focus on how we can continue to innovate, and to deliver an exceptional five-star experience to every one of our passengers, no matter what class they travel. Against the backdrop of the illegal blockade against the State of Qatar, we are more committed than ever to welcoming everyone onboard and taking them wherever they need to go," said Baker.
As one of the world's fastest-growing airlines, Qatar Airways launched 11 exciting new destinations in 2017, including Auckland, New Zealand - the world's longest commercial flight%u2014Nice; France; Dublin, Republic of Ireland; Skopje; Sohar, Oman; Kyiv, Ukraine; Prague, Czech Republic, Sarajevo, Bosnia and Herzegovina; Adana, Turkey; Chiang Mai, Thailand and St. Petersburg, Russia.
The airline also introduced its superjumbo A380 aircraft to Melbourne and will soon introduce it on its Perth route, enhancing capacity to Australia ahead of the airline's launch of service to Canberra in 2018. Qatar Airways also proudly became the first airline ever to fly the state-of-the-art Airbus A350 to the Maldives twice daily.
Qatar Airways also doubled its frequencies to a number of destinations in Eastern Europe, the Nordics and Russia, following a significant increase in passenger demand to the popular destinations of Warsaw, Helsinki, and Moscow, with increases to Prague and Kyiv following shortly after the launch of the routes themselves.
The airline took delivery of 19 new aircraft in 2017, taking its total fleet to 212 aircraft. The airline also recently upsized an earlier order for 50 Airbus A320neo with a firm order instead for 50 of the larger A321neo ACF (Airbus Cabin Flex configuration).
Qatar Airways continued to forge strong partnerships around the world and proved its commitment to creating lasting relationships with global partners. In November, it announced an acquisition in fellow oneworld member Cathay Pacific, purchasing approximately 9.61 per cent of Cathay Pacific's total issued share capital.
The airline further strengthened its commitment to Italy with the acquisition of 49 per cent of AQA Holding, the new parent company of Meridiana fly (Meridiana), while the previous sole shareholder Alisarda has kept 51 percent.
Qatar Airways Cargo took delivery of two new Boeing 747-800 freighters and its thirteenth Boeing 777 freighter this year, continuing its trajectory of rapid growth and expansion. In October, Qatar Airways Cargo announced Pittsburgh, Pennsylvania as its latest freighter destination in the United States, making it the first international airline to commence freighter service to Pittsburgh.
The cargo carrier also added Buenos Aires, Sao Paulo, Quito, Miami, Phnom Penh and Yangon to its dedicated freighter network in 2017, strengthening its commitment to support the global air trade and supply chain industry.
Meanwhile, Qatar Airways is looking ahead to 2018, when it will launch a host of exciting new destinations, including Penang, Malaysia; Canberra, Australia; Thessaloniki, Greece and Cardiff, Wales, the airline's fifth UK gateway, to name a few. The airline will also be the global launch customer and launch operator of the Airbus A350-1000 next year.