Qatar Airways expands payment options for travellers through UnionPay
<p style="text-align: justify;">Qatar Airways is partnering with UnionPay, an international bankcard network to enhance payment option for its travellers. UnionPay cards are accepted in 160 countries and regions and is the preferred method of payment in the Chinese market. <a title="Qatar Airways" href="http://www.qatarairways.com/" target="_blank" rel="noopener noreferrer">Qatar Airways</a> customers can now conveniently book via the airline's […]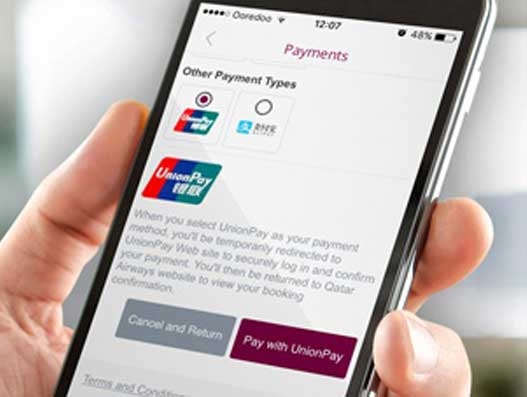 Qatar Airways is partnering with UnionPay, an international bankcard network to enhance payment option for its travellers. UnionPay cards are accepted in 160 countries and regions and is the preferred method of payment in the Chinese market. Qatar Airways customers can now conveniently book via the airline's website in currencies including Chinese Yuan, Great British Pound, Euro, US Dollar, Australian Dollar, Hong Kong Dollar, Japanese Yen, South Korean Won, Malaysian Ringgit, New Zealand Dollar, Singapore Dollar and Thai Baht using their UnionPay cards.
Qatar Airways Group Chief Executive, His Excellency Mr. Akbar Al Baker, said: "Our partnership with UnionPay International, one of the world's most popular bank card issuers, provides our global customers with more flexible payment options when they choose to book with Qatar Airways. We are committed to finding ways to better serve our customers; from our recently launched Apple Pay feature to our new digital membership card for our valued Privilege Club members. We are tireless in our pursuit to provide the most secure and convenient options to travellers as we go places together."
Customers across the globe can book Qatar Airways tickets using their UnionPay cards by selecting the UnionPay logo on the payment page. Customers will be re-directed to UPI's website to fill out their payment credentials, with a successful completion of the payment resulting in a Qatar Airways' confirmation page and booking reference number.
Qatar Airways also recently launched Apple Pay; becoming the first Gulf carrier to offer the revolutionary 'mobile wallet' solution across the full list of countries where Apple Pay is available. Available on any iOS device, Apple Pay allows customers to conveniently and securely book their next journey on Qatar Airways with the tap or touch of a finger. Using passcode or finger-print technology, Apple Pay links directly to the subscribers' nominated debit or credit cards, adding to yet another safe and secure way to purchase Qatar Airways tickets.
In addition to Apple Pay, Qatar Airways' also recently launched the Digital Membership Card for Privilege Club members – another digital innovation for the airline. As part of its commitment to streamline the customer experience, the Digital Membership card provides customers the option to access the clubs many great benefits via the digital card available on the Qatar Airways App, website, Apple Wallet, via email or as a saved image on a portable device.