Qatar Airways connects Doha and Dublin with daily direct flights
July 10, 2017: The state owned Qatar Airways has announced the launch of new direct daily flights between Doha and Dublin. This is part of the airlines' global strategy expansion plans. This new flight will give Irish passengers and expats living in Dublin the access to travel to more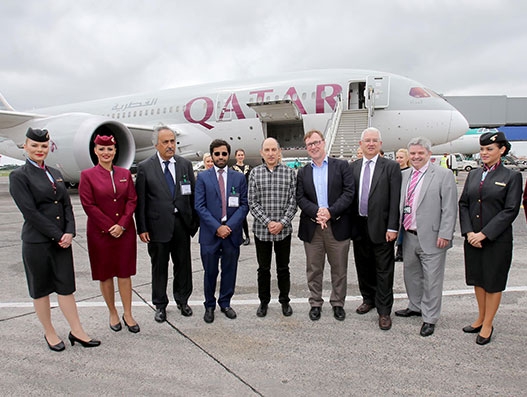 July 10, 2017: The state owned Qatar Airways has announced the launch of new direct daily flights between Doha and Dublin. This is part of the airlines' global strategy expansion plans. This new flight will give Irish passengers and expats living in Dublin the access to travel to more than 150 destinations.
These flights to Dublin will also provide Qatar Airways Cargo's customers 80 tonnes of belly-hold capacity every week. Temperature-controlled products are the major exports out of Ireland, and the cargo carrier is proficient in supporting the air logistics through its specialist solutions QR Pharma, for pharmaceuticals and QR Fresh, for perishables.
The airline's new service boosts regional tourism in Ireland and provides leisure and business travellers with access to more than 150 destinations across the world
Qatar Airways Group chief executive, Akbar Al Baker confirmed during a press conference held in Dublin that, " Dublin has long been on our list of destinations to add to our route map, and I am proud that we are here to celebrate this significant milestone in the history of our airline. We are here to serve the people of Ireland with a world-class service connecting them to business and leisure destinations on our global network. It is also our pleasure to promote Ireland as a tourism destination to our loyal passengers who have already shown their appetite for Dublin."
Dublin Airport chief executive, Kevin Toland, said, " There are many great reasons to take a break in Dublin which is a wonderful, vibrant and exciting city. Visitors can explore the city's exceptional museums, take a cycle around town on the city bikes, or take a walk on cobbled roads. A stunning countryside of mountains, lakes and quaint villages are a short trip away from Dublin for everyone to enjoy."
Qatar Airways is planning to launch an additional 26 new destinations in 2017 and 2018 including Abidjan, Ivory Coast; Accra, Ghana; Canberra, Australia; Chiang Mai, Thailand; and Mombasa, Kenya.