Qatar Airways Cargo to start Osaka service using B777F
January 14, 2020: Qatar Airways Cargo has expanded its cargo network in Asia-Pacific with the launch of twice-weekly B777 freighter service to Osaka, Japan from January 14, 2020. It recently announced a major expansion in South America with four new freighter destinations Campinas (Brazil), Santiago (Chile), Bogotá (Colombia) launching on January 16, 2020, and Lima […]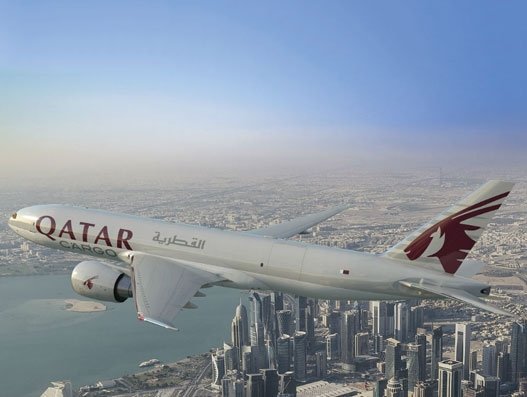 January 14, 2020: Qatar Airways Cargo has expanded its cargo network in Asia-Pacific with the launch of twice-weekly B777 freighter service to Osaka, Japan from January 14, 2020. It recently announced a major expansion in South America with four new freighter destinations Campinas (Brazil), Santiago (Chile), Bogotá (Colombia) launching on January 16, 2020, and Lima (Peru) to be launched soon.
The Osaka freighter will depart Doha on Tuesdays and Fridays each week, arriving in Osaka on the following day and returning via Hong Kong. Approximately 200 tonnes of cargo capacity will be offered each way per week, benefitting importers and exporters with increased capacity on the route.
Qatar Airways chief officer cargo Guillaume Halleux said, "2019 has been a great year for Qatar Airways Cargo and we are glad to start 2020 with the announcement of freighters to Osaka, a major financial centre in Japan. Japan is an important part of our network where we already operate daily passenger flights to both Haneda and Narita airports in the capital city, Tokyo. With direct flights to Osaka, our customers are offered dedicated freighter capacity for their cargo to and from Japan."
The airline has a strong belly-hold presence in the Asia Pacific with 35 destinations served by the Qatar Airways passenger network and a freighter network of 10 destinations. The new destination Osaka will increase the carrier's freighter network in the Asia Pacific to 11 destinations.
Qatar Airways Cargo currently offers more than 250 tonnes of belly-hold cargo capacity each way to Haneda and Narita airports in Tokyo per week. The new freighters to Osaka will boost cargo capacity to over 450 tonnes weekly to and from Japan. General cargo, hi-tech goods, electronics, pharmaceuticals, and perishables will form the majority of exports and imports on the route.
Qatar Airways Cargo has an extensive scheduled road transport network offering alternative routes to over 290 airports around the world. Overnight truck routes are available connecting Osaka with Haneda, Narita and Nagoya Chubu, six days a week.
Five more Boeing 777 freighters will join its fleet from April 2020 onwards making it one of the largest freighter operators globally.
Qatar Airways Cargo fleet includes two B747-8Fs, 21 B777Fs and 5 A330Fs.