Qatar Airways Cargo launches the second chapter of WeQare – Rewild the Planet
Qatar Airways Cargo launches 'Rewild the Planet', the second chapter of WeQare, the sustainability programme of the largest cargo carrier of the world.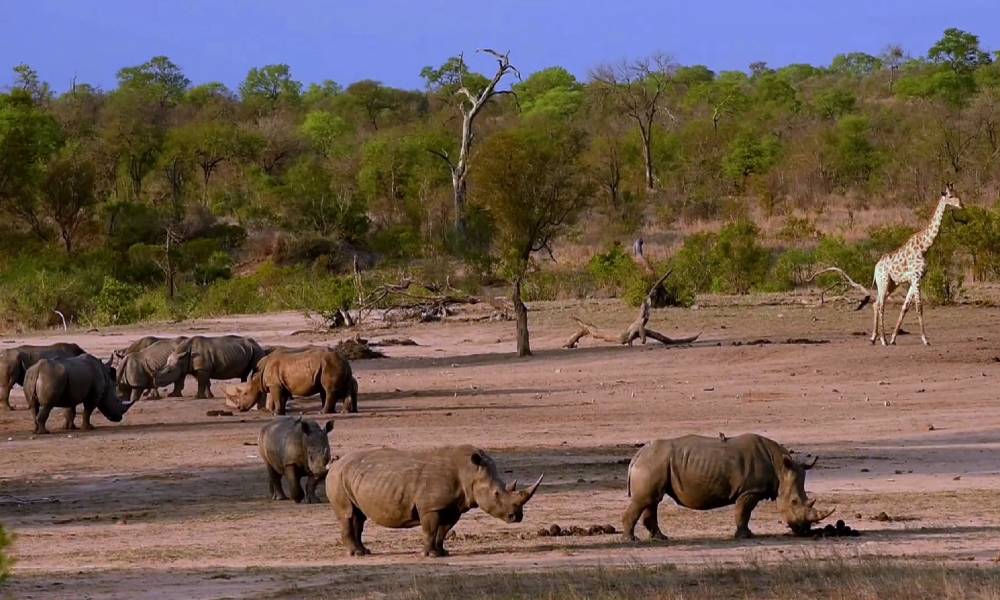 Qatar Airways Cargo, the cargo division of the Doha-headquartered Qatar Airways, has launched the second chapter of its sustainability programme. With the second chapter, called 'Rewild the Planet', the world's leading cargo carrier commits to preserving wildlife and endangered animals and has pledged to transport these animals back to their natural habitat free of charge.
"Everybody loves animals. We chose wildlife, as the second topic of our WeQare programme, maybe to give a bit of diversity in the news today as everybody talks about the pandemic, vaccines and pharma. We thought addressing the wild life topic would bring a a bit of fresh air in our industry," said Guillaume Halleux, chief officer cargo at Qatar Airways, before giving a more rational reason for the programme.
The story of choosing wildlife as the topic, according to Halleux, is fairly simple. "There are a number of NGOs, who do their best to move wild animals back to their natural habitat. Most of the animals are taken away from wild by humans for entertainment for the most part. I talk to a number of NGOs, who volunteer and spend their resources including, sometimes, bearing the cost of transport. The biggest hurdle for most of them, after they complete all legal and regulatory procedures, is the cost of transport. So we came up with the project where if anyone or an NGO wants to ship wild animals back to their natural habitat then Qatar Airways will move it free of charge," he added.
The airline has released a series of striking advertisements and a special video to commemorate the announcement and importance of Chapter 2. Through them, Qatar Airways Cargo aims to raise awareness of such issues among its customers and air cargo stakeholders.
All the chapters of WeQare are based on the core pillars of sustainability - environment, society, economy and culture and the programme has the backing and support of the employees of Qatar Airways Cargo.
While the second chapter is on from today, Qatar Airways Cargo does not have a request to ship on the launch day. "I am convinced that some organisations will think about this and then act. We are starting today and we are very proud about that. We do not have a shipment under this project but I do expect to get a number of requests once it is announced," Halleux said.
Halleux said it is a "good thing". "It is fun. At the end of the day as you do air cargo and move boxes and skids and so on, giving a sense of purpose to what you do is key. It feels good."
Talking about the completion of the first chapter of WeQare, where Qatar Airways donated one million kilos of freight free of charge to its freight forwarders and customers, who in turn were allowed to donate the same to the charity of their choice, Halleux said that it was a beautiful project. "It worked really well and created a lot of team building," he said about the project which was launched in July last year and was on till the end of 2020.
However, Halleux did not hide his disappointment in the way his customers responded to the WeQare initiative, which was launched to celebrate the milestone of Qatar Airways Cargo becoming the largest cargo carrier in the world in 2019.
"I am a bit sad at the end of it, to be frank; because a number of them did not really pick it up, to be frank. Too busy, not believing in it. I don't know. I had expected that everybody would jump on an opportunity like this because it costs not much if not nothing to do some good."
As a result some of that one million kilos would have gone to waste if Qatar Airways Cargo had not, toward the end of the year, picked it up themselves and proactively utilised them into their own donations.
He said there were others who were very excited about it and they were very happy to play with Qatar Airways Cargo and to really engage and donate. "Most of them donated their ground services free of charge to the same charity so it was an end to end free of charge service for the charity."
That is not stopping the world's largest cargo carrier to be small in giving back to the world and to the planet.
"Hey, it is the reality of the world. That is not stopping us though. We will continue. We will pursue. We now have the chapter two," said Halleux.
Qatar Airways Cargo, today, is the world's largest cargo carrier by freight tonne kilometres and going by the latest numbers it carries close to 10 percent of the world's total air cargo volume. Social responsibility is innate to Qatar Airways and they very carefully choreograph the sustainability outlook with planet, people and profit.
Watch the full interview with Guillaume Halleux, chief officer cargo at Qatar Airways, in the Cargo Masterminds series here.