Qatar Airways, Boeing finalise order for 5 B777 freighters worth $1.8 billion
July 11, 2019: Qatar Airways and Boeing finalised a significant order for five Boeing 777 freighters worth $1.8 billion at current list prices during a signing ceremony between Qatar Airways Group chief executive, Akbar Al Baker and Boeing Commercial Airplanes president and CEO, Kevin McAllister. The ceremony was held at the White House on July […]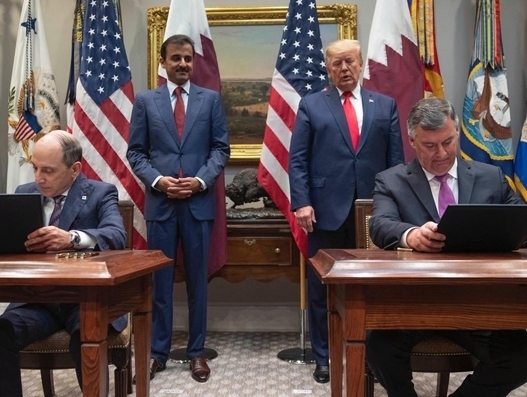 July 11, 2019: Qatar Airways and Boeing finalised a significant order for five Boeing 777 freighters worth $1.8 billion at current list prices during a signing ceremony between Qatar Airways Group chief executive, Akbar Al Baker and Boeing Commercial Airplanes president and CEO, Kevin McAllister.
The ceremony was held at the White House on July 9. Sheikh Tamim Bin Hamad Al-Thani, Amir of the State of Qatar and US president Donald Trump were also present at the signing ceremony.
We've finalised our order for five @BoeingAirplanes 777 Freighters, supporting the future growth for #QatarAirways Cargo. https://t.co/fd0pYRjBEq pic.twitter.com/nF76nYYDiZ

— Qatar Airways (@qatarairways) July 11, 2019
The order was previously announced with the signing of a Memorandum of Undertsanding at the Paris Air Show in June.
"It is an honour to sign this landmark order for five Boeing 777 freighters in the presence of His Highness Sheikh Tamim Bin Hamad Al-Thani, Amir of the State of Qatar and US president Donald Trump. We are very pleased to extend our long-term relationship with Boeing Commercial Airplanes. This order will enable Qatar Airways Cargo to grow to become the number one global cargo carrier this year in both fleet and network and is a demonstration of our ongoing commitment to US manufacturing," said Al Baker.
How Qatar Airways Cargo helped a nation fly amidst turbulence
The Boeing 777 freighter has the longest range of any twin-engined freighter and is based around the Boeing 777-200 Long Range aircraft operating on the airline's ultra-long-haul routes. With a payload capacity of 102 metric tonnes, the Boeing 777F is capable of flying 9,070 km.
McAllister said, "It is an honour to be signing this agreement today with Qatar Airways, who has been our long-haul partner for more than 20 years. As one of the world's leading air cargo carriers, we are delighted that Qatar Airways continues to expand its freighter fleet with the 777 Freighter and we deeply appreciate their business and positive impact on Boeing, our employees, suppliers and communities."
Qatar Airways currently has a fleet of 23 freighters and over 250 belly-hold cargo aircraft.
The carrier's cargo volumes increased by 10 per cent in 2018 over 2017 and its products have also performed exceptionally well with positive tonnage growth and several enhancements introduced. The carrier added belly-hold cargo capacity to several key destinations in its network and also received two brand new Boeing 777 freighters in 2018. It introduced freighters to two new destinations in May 2019; Guadalajara in Mexico and Almaty in Kazakhstan.