Qatar Airways and Hamad International Airport report high volume during Eid season
<p style="text-align: justify;">Jun 29, 2017: Doha head-quartered <a title="Qatar Airways" href="http://www.qatarairways.com/" target="_blank">Qatar Airways</a> and Hamad International Airport reported higher volume of traffic during the busy Eid-Al-Fitr holiday period despite the current regional travel restrictions imposed by other Middle- East Countries.</p> <p style="text-align: justify;">Qatar Airways Group Chief Executive, Akbar Al Baker, said, "In spite of recent […]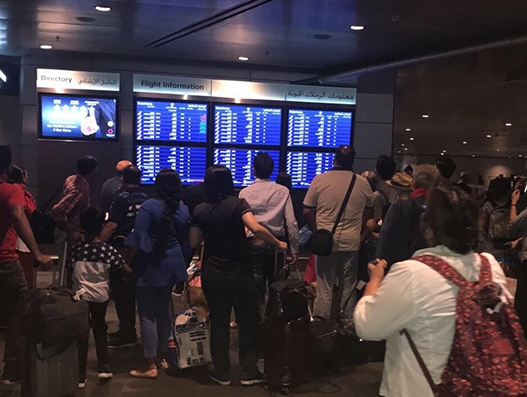 Jun 29, 2017: Doha head-quartered Qatar Airways and Hamad International Airport reported higher volume of traffic during the busy Eid-Al-Fitr holiday period despite the current regional travel restrictions imposed by other Middle- East Countries.
Qatar Airways Group Chief Executive, Akbar Al Baker, said, "In spite of recent restrictions imposed on the airline, our operations to and from Doha remain resilient and are running smoothly. In the past seven days, 510,949 passengers have flown from Hamad International Airport on board more than 2,900 flights. During the peak, Eid-Al Fitr holiday period, 22-24 June, 49,794 of those passengers were joining flights directly from Doha."
Badr Al Meer, Hamad International Airport CEO, added, "The airport has had a very busy Eid period with the total number of passengers travelling on all airlines, including the national carrier Qatar Airways, from 19-25 June reaching 580,000, and added that there were 3,300 movements during this time. Hamad International Airport continues to urge passengers to arrive early for check in during this busy holiday period."
Hamad International Airport served 19 million passengers from January to June 2017, which is a 8 percent increase than the same period in 2016.
Qatar Airways continues to operate to the majority of its network of more than 150 destinations around the world. The airline shows no sign of slowing down its rapid network growth having launched its new service to Dublin, Republic of Ireland, on 12 June, which will be followed by new route launches on 4 July to Nice, France, and 17 July to Skopje, Macedonia. Other new destinations planned include Las Vegas (USA), Canberra (Australia), Douala (Cameroon), Libreville (Gabon), Medan (Indonesia), Rio de Janeiro (Brazil), Santiago (Chile) and Sarajevo (Bosnia and Herzegovina), as well as many others.
Earlier this month the airline released its annual report for the fiscal year 2017, revealing a net profit of $541 million, a 21.7 percent year-on-year increase. The results also show an annual revenue increase of 10.4 percent.