Qatar Airways Cargo transports European equine guests to Omaha, Nebraska
<p style="text-align: justify;">Mar 30, 2017: Qatar Airways Cargo has transported fifty of the finest European equine guests to Eppley Airfield in Omaha, Nebraska, where the world's best riders and horses will compete at the Longines FEI World Cup Jumping and FEI World Cup Dressage Finals from March 29 to April 2.</p> <p style="text-align: justify;">The carrier […]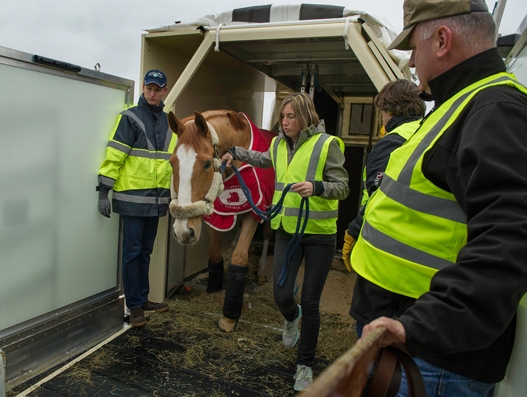 Mar 30, 2017: Qatar Airways Cargo has transported fifty of the finest European equine guests to Eppley Airfield in Omaha, Nebraska, where the world's best riders and horses will compete at the Longines FEI World Cup Jumping and FEI World Cup Dressage Finals from March 29 to April 2.
The carrier provided the utmost care and ensured the safety and comfort of the horses throughout their journey from Amsterdam to Omaha.
The 50 horses on board the cargo carrier's Boeing 777 freighter received world-class treatment and expert handling. Each horse stall on the freighter was loaded with two horses, with a total of 11 grooms accompanying the equine guests. The freighter also carried 20 tonnes of equine equipment. On board the aircraft, an ambient temperature of 12 – 15 degrees celsius in the cargo bay during the flight ensured a comfortable journey for the horses travelling in their horse stalls. The cargo carrier will also fly the equine superstars back to Amsterdam after the FEI World Cup Finals.
Ulrich Ogiermann, chief officer cargo at Qatar Airways, said, "We place great emphasis on care and safety in live animal transportation, particularly horses which require specialist service and well-trained staff. We offer personalised solutions, high quality operations and an excellent record of on-time delivery, making us the premier carrier of live animals."
Edwin Hofstede, director at ECS Livestock BV, the cargo carrier's customer said, "Transporting these world-class horses globally is always challenging and involves proper coordination between all parties involved."
Qatar Airways Cargo has seen a recent upsurge in the transportation of live animals, especially horses. In 2016-17, the cargo carrier transported over 2300 horses, a 10 percent increase over 2015-16. Qatar Airways Cargo transports a variety of animals in accordance with International Air Transport Association (IATA) Live Animal Regulations. Horses are transported primarily between the Middle East and Europe, and between Europe and the USA.