Qantas Freight receives Boeing 747-8F; 2nd freighter to follow soon
August 27, 2019: Qantas Freight has added the first of two Boeing 747-8F freighter aircraft that touched down in Sydney. The second 747-8F aircraft will enter service later this week. Each aircraft offers 20 per cent more freight capacity and space for seven extra cargo pallets compared to the 747-400F. The 747-8's iconic nose door […]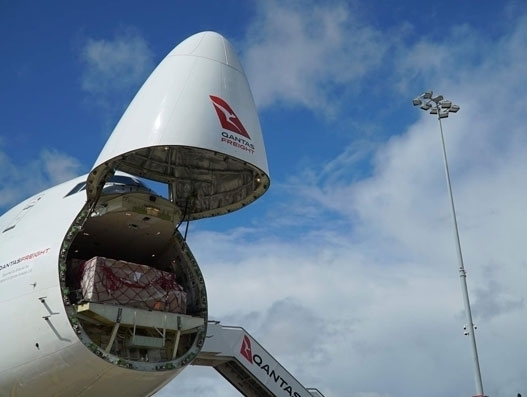 August 27, 2019: Qantas Freight has added the first of two Boeing 747-8F freighter aircraft that touched down in Sydney. The second 747-8F aircraft will enter service later this week.
Each aircraft offers 20 per cent more freight capacity and space for seven extra cargo pallets compared to the 747-400F. The 747-8's iconic nose door allows easier loading of oversized cargo and helps achieve faster turnaround times.
"More capacity and better reliability means we can continue to deliver for our customers in Australia and around the globe. These aircraft have a far better environmental footprint, producing less carbon emissions and offering greater efficiency, something that we know is really important to our customers," said Paul Jones, executive manager, Qantas Freight.
We got a jumbo sized delivery today with two Boeing 747-8F freighter aircraft joining our #QantasFreight fleet. Find out more here: https://t.co/79XukFwQyw @AtlasAirWW pic.twitter.com/t4xnadors0

— Qantas (@Qantas) August 27, 2019
Atlas Air will operate the freighters on behalf of Qantas. The two freighters will operate between Australia, China and the USA with additional routes currently being explored.
While the aircraft will be painted in Atlas Air livery, the Qantas Freight logo will be displayed on either side of the nose and underneath the freighters' nose cargo door.
Michael Steen, executive vice president and chief commercial officer for Atlas Air Worldwide, said the company is delighted that Qantas Freight have extended their long-term relationship and partnership with Atlas Air.
Earlier this month, Qantas renewed a seven-year agreement valued at over $1 billion with Australia Post to support the growing demand for parcels. Qantas will also introduce three Airbus A321P2Fs (Passenger to Freighter) to the freighter network used for Australia Post.