Propelling growth momentum in ecommerce logistics
At a time when cross border ecommerce has been emerging as a megatrend, logistics industry is making best efforts to put across a flexible supply chain. This healthy course should not be cast down at any cost by political intricacies, stress logistics players.
Shreya Bhattacharya
Finding moments of shopping inspirations while taking a stroll down the roads or while browsing ones social media feeds, is quite a familiar occurrence. How many times it happens that you spot an attractive piece of furniture at a shop but are not comfortable shelling out the exorbitant price for it? Next step…you want to find an alternative online. But now, you can't find words to describe how it looks. So how can Google find it for you? 
eBay has unraveled the challenge in a brilliant move. Take a picture and eBay will find you similar products for a better deal, via its Image Search feature. After Facebook's face recognition stint, ecommerce giants are harnessing the power of artificial intelligence and machine learning to help their customers easily search for products.  
From image and voice searches to drone deliveries, the ecommerce industry is leaving no stones unturned to inch closer to its customer base, which is even more rapidly expanding amid rapid mobile penetration globally. According to industry estimates, nearly 6.1 billion people in the world will own a smartphone by 2020- a very important figure that indicates 6.1 billion people could be these company's potential customers.
At this moment, while innovations like these can spur business for a company multi-fold, an inefficient supply chain can bring it back to square one in no time. One of the very few remaining genuine differentiators in the ecommerce sector is still that of shipping times and delivery logistics and the logistics stakeholders are indeed taking note of this and are rolling up their sleeves to cater to this huge demand to make shopping experience smoother.
Trade lanes
Talk about the most popular trade lanes for ecommerce, and most of the global logistics players name the USA and China in particular, from where most of ecommerce trade originate and is supplied to other parts of the world.
"Our biggest ecommerce areas are the Netherlands, USA, Germany, UK, Australia, and China. Our biggest trade lanes are China to EU, China to USA, and USA to Europe. Parcel volumes have grown considerably this year. From the USA alone, Tigers ships over 20,000 parcels a day into Europe, connecting directly into our sister company DPD's domestic distribution network," shares Andrew Jillings, chief executive officer of logistics firm Tigers.
Charles Brewer, CEO, DHL eCommerce also revalidates the particulars saying, "The largest ecommerce markets are the US and China and we continue to see increased trade in both markets to all regions." Apart from the BIG 2, regions like Southeast Asia, Latin America and the Middle East are seeing accelerated growth, informs Brewer. 
For years, the USA's Ted Stevens Anchorage International Airport (TSAIA) has regularly ranked among the world's top five airports for cargo throughput. About 80 percent of all goods shipped by freighter aircraft over the Pacific are apparently transported through the airport. Giving an idea of the huge volumes of ecommerce shipments passing through this major US gateway, airport manager Jim Szczesniak says, "On a typical day we can see six B747 freighters heading to Amazon's base in Cincinnati.  We can also see around thirty UPS wide body operations and around seventeen FedEx wide body operations. Total air cargo growth in 2017 at Anchorage was up over 7 percent to 2.7 million tonnes and we know that a large driver of that growth was ecommerce. In 2018, we are still seeing good growth. Month to month we are seeing some fluctuations in volume but the trend is still up.  We have new routes and airlines starting service here this fall and with the return of NCA flights the remainder of 2018 should be a good."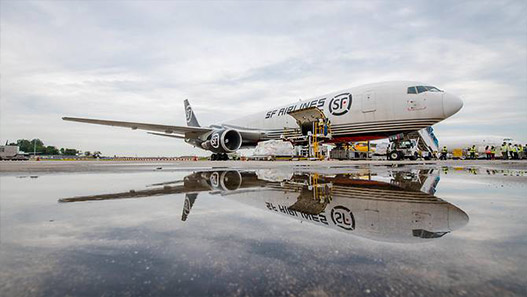 Singapore Changi Airport welcomed the inaugural flight of Chinese express carrier SF Airlines on September 4. The airline, which took off from Shenzhen, China, thus became the first Chinese express airline to operate between Singapore and China. The airline will operate the route with a Boeing 767F aircraft. China is Changi Airport's largest air cargo market, registering more than 270,000 tonnes of airfreight throughput (+8 percent year-on-year), for the 12 months ending June 2018.
Szczesniak emphasises that the airport's 9.5 hours flight time from 90 percent of the industrialised world and its existing network of flights and the cargo transfer rights allows it to serve over 300 markets, providing it an extra edge.
"Anchorage is unique in the fact that we have major operations for UPS, FedEx, and DHL at our airport and just recently we secured service from Chinese express carrier SF Express.  We have a parcel of land that we are looking to develop that is specifically geared toward ecommerce.  This parcel is across the road from UPS, FedEx, and DHL and located in the airports foreign trade zone. Not a bad location if you are looking to tap into those networks," he further adds.
All these trade lanes and talks of connectivity also put across another point that cross border ecommerce is the popular concept in comparison to domestic ecommerce and is rapidly gaining momentum. The cross-border ecommerce market accounted for $300 billion GMV during 2015, about 15 percent of the overall ecommerce.  This statistic is based on Alibaba's payment system Alipay's estimate, quoted in DHL Express' report 'The 21st Century Spice Trade'. DHL Express further says that this rapid growth is expected to grow by about 25 percent year-on-year until 2020 – nearly twice the rate of domestic ecommerce and a growth rate that most traditional retail markets would dream of achieving. In 2020, it is expected to account for about $900 billion GMV, translating into a roughly 22 percent share of the global ecommerce market. This growth momentum yields unrivaled opportunity for retailers and manufacturers.
The report also says that about 20 percent of cross-border purchases are worth over $200, which is higher in terms of share than the domestic e commerce markets, and provides high profit potential. The report further says that the spice routes for high-value purchases are being expanded out of 'sleeping giant' markets in Europe (Italy, Spain, France and Germany) and Asia (Singapore, Hong Kong and India) with growth rates up to two to three times higher than the global average. 
Speaking about the spiraling ecommerce market in Southeast Asia, Lim Ching Kiat, Changi Airport Group's managing director for air hub development, points out that the region is set for promising ecommerce growth. Referring to the Google Inc and Temasek Holdings joint research, he said that by 2025, the region's ecommerce is expected to grow 16 times to about $88 billion. "Singapore is at the crossroads of global ecommerce trade flows for the ASEAN region. Coupled with our extensive air connectivity and vibrant postal, express and forwarding sectors, we are well-positioned to capture and facilitate ecommerce growth in the region," he added.
"Changi Airport saw moderate growth in our air cargo volumes for the first eight months this year, registering over 1.4 million tonnes, an increase of 2.5 percent year-on-year. Ecommerce continues to play a contributory factor to our growth," he further adds.
Another major US player UPS is also placing its bet on Asia, Europe and emerging markets. "UPS' International segment has generated four consecutive quarters of double-digit export growth in 2017. We saw two other quarters of strong growth and profitability in our international segment in 2018 as we invest in and deliver higher-value solutions for our customers. The Q2 operating profit of the International segment jumped 15 percent to $654 million, resulting in this segment's highest second quarter ever," informs Rachid Fergati, MD Indian sub-continent, UPS.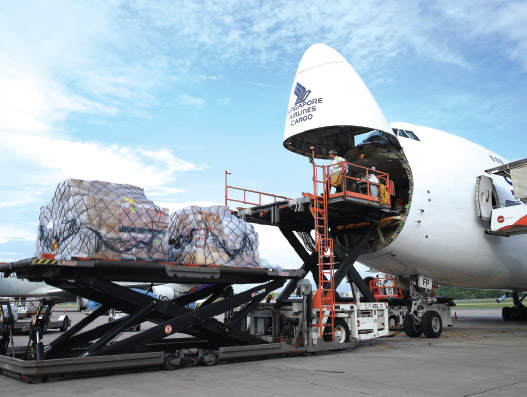 photo:  Changi Airport
"We believe that our growth is directly linked to the investment we have made to maximise capacity and modernise our network for improved performance with a broad UPS portfolio. As part of UPS' growth transformation strategy, the company is working to expand its international capacity, as it anticipates global package market growth in the range of $300 billion to $480 billion by 2022, and is focused on growing in Asia, Europe and emerging markets."
Regulatory and infrastructural changes to give a boost to ecommerce sector
While ecommerce is spreading like wildfire, logistics stakeholders are constantly making regulatory, policy and infrastructural changes to cater to this growing volume and tap more consumers.
In many parts of Southeast Asia, a large portion of the population, almost upto 73 percent, do not have banking facilities and therefore are unable to order online in absence of credit cards or digital payment systems. In these regions, cash is still the king. Identifying this pitfall, DHL has launched the Cash on Delivery service for ecommerce in Southeast Asia allowing consumers to pay for their international purchases in cash and only upon delivery.
"Cross Border or International COD was never a 'thing' until the rise of ecommerce," says Brewer. "With the COD service, our customers are now able to tap into new segments and cater to those who prefer to pay in cash. We will continue to monitor ecommerce payment trends in the markets we operate and introduce our COD service in countries where there is demand.
Meanwhile, Bart Pouwels, head of cargo, Amsterdam Airport Schiphol informs, "We are seeing a huge increase in small parcels arriving from Asia, instead of consolidated shipments. This has a big impact on Customs procedures, which then increases the total throughput time." 
In order to smoothen the process, Dutch Customs has launched a new, simplified ecommerce declaration form called VENUE. This form allows volumes growth of smaller shipments, then smoothly transports them through Amsterdam Airport Schiphol.
"VENUE is designed to help shippers import and export items purchased via ecommerce platforms such as fashion, personal care, and homeware throughout the Union Customs Code transition period, ending in January 2021. The air cargo market is changing and we are seeing a huge increase in ecommerce parcels. At Schiphol we are focused on providing a high quality, efficient service for our ecommerce customers, and VENUE will help us to do just that," shares Pouwels.
Meanwhile, Szczesniak highlights that TSAIA has been looking to change its infrastructure to better handle the growing volume of ecommerce. "Anchorage has special air cargo transfer rights.  Those rights allows for forwarders and airlines to run an air cargo hub and spoke operations from the airport.  And the rights allow for transfers between multiple airlines.  The airport will soon be developing a new 'Quick-turn' air cargo facility.  This facility will be in the heart of our cargo operation and allow for the quick storage and quick retrieval of cargo pallets," he said.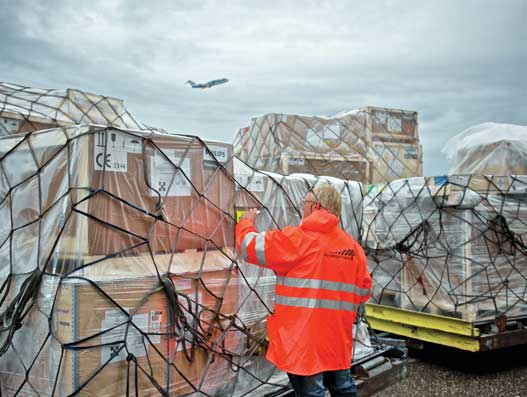 photo:  Amsterdam Schiphol Airport
Last year, Singapore ground handler SATS unveiled its new eCommerce AirHub at Changi Airport, augmenting its regional B2C ecommerce fulfillment capabilities. "This new fully automated facility has enhanced the consignment handling capabilities for both SATS and SingPost, through improved efficiency and space utilisation. With mailbag processing capability increasing by more than three times and automation to reduce mail processing time by 50 percent in this new facility, ecommerce shipments can be loaded more quickly onto flights.  In addition, the new facility also offers higher transparency on track and trace status with systems integration, leading to better customer service satisfaction. The state-of-the-art facility also presents opportunities for global brand owners and ecommerce marketplaces to partner with SATS to handle their regional ecommerce fulfilment more efficiently," revealed Ching Kiat.
Technological advancement
From the point of view of ecommerce companies, a strong network and reliable service are vital for fast and efficient deliveries. Industry experts also point out that there is an increasing consumer demand for fulfillment to be performed much faster and with more transparency. Hence parcel traceability and speed are becoming the new standards.
Speaking about the initiatives adopted by Amsterdam Airport Schiphol, Pouwels says, "We have launched our Smart Cargo Mainport Programme (SCMP) with the community, including airlines, forwarders, handlers, and truckers. In this programme we look at how to make Schiphol the most innovative, efficient, and smartest cargo hub in Europe. This means looking at digitisation and a way of redressing any areas that may need updating.  The Smart Cargo Mainport Program, together with the network on offer at the airport, will help to attract fast-growing ecommerce traffic to Schiphol."
"From Amsterdam, there are 326 direct destinations - this is very interesting for ecommerce. Also, ecommerce is driven by digital processes and the Smart Cargo Mainport Programme is a key driver for digitalising the air cargo sector," he added.
Mark Gatenby, chief information officer, Tigers says that the development of ecommerce in general, and the change in the order mix to smaller orders have greatly increased the complexity and system transaction volumes, which has necessitated a complete rethink of their IT strategy. "We have moved to a more flexible, cloud-based technology system that allows us to cope with higher volumes and short term spikes in orders. Furthermore, we have changed the way we integrate to allow customers to be onboarded more rapidly."
As pointed by Gatenby, the short term spike indeed is a challenging task and it is already that time of the year for which marketers keep waiting. Come October 1 and all ecommerce giants announce mega discounts and rewarding offers to draw maximum customers for the next three months of the 'festive season'. As these companies prepare to do brisk business, demand for ecommerce deliveries go several notches up, also increasing chances of mismatching or incorrect deliveries. Maintaining the high level of accuracy is vital at this point of time. Indian logistics major Blue Dart, a part of the Deutsche Post DHL group, is fast adopting automation across operations - to ease last mile logistics, optimise supply chain operations and get real-time tracking of their fleet at the distribution, warehouse and transportation level.
The logistics company has automated their manual shipment sorting process at the last mile delivery hub and the solution used was Locus' Intellisort, a comprehensive solution that maintains a high level of accuracy in the sorting process while significantly reducing the time taken. Locus, a logistics automation platform that operates out of India and the US, automates the entire sorting process and reduces delivery time using a combination of AI, GeoCoding and Machine Learning.
Ecommerce firms taking control of logistics
Today, China is already a major exporter of ecommerce goods with a new generation of technology disruptors such as Alibaba and JD.com. According to China's General Administration of Customs, cross-border exports totalled more than $5 billion in 2017.
In June, Emirates SkyCargo signed an agreement with Cainiao- China's Alibaba Group's logistics arm to deliver packages across its network. As per the deal, the airline would deliver online shopping orders to the Middle East and neighbouring regions via Dubai. The deal will give Cainiao access to SkyCargo's network of 160 destinations and allow Emirates to leverage its ecommerce business.
Alibaba Group had earlier in 2017, taken control of the logistics unit Cainiao and pledged to spend 100 billion yuan ($15 billion) over five years to build out a global logistics network. The company boosted its stake to 51 percent from 47 percent by investing around 5.3 billion yuan ($807 million).
The announcement came while Alibaba is rapidly expanding its ecommerce and logistics network abroad, including newly announced direct sales channels in Indonesia, Thailand and the Philippines, facilitated by a $2 billion investment in Southeast Asian online retailer Lazada Group. The investment in Cainiao also signals its intention to boost control over the domestic warehousing and delivery market, which has become increasingly competitive as firms seek to capitalise on logistics data assets.
Meanwhile, USA's Amazon, with its aggressive expansion plans, has almost covered nearly 50 percent of the US ecommerce market. This online shopping giant is also in the process of taking full control of its logistics. The ecommerce major recently revealed that it has shipped more than 5 billion items worldwide via Amazon Prime's free one- or two-day shipping in 2017. Even more interesting is the data on Amazon's fastest deliveries – just eight minutes for a forehead thermometer, and just nine minutes for five pints of ice cream.
The Wall Street Journal has recently reported that Amazon is getting ready to launch its own delivery service, named "Shipping with Amazon" (SWA), which will rival UPS and FedEx. The service will see Amazon handle delivery for other businesses, and will start in Los Angeles, where it will work with third-party merchants that sell on Amazon's marketplace. Apparently, there are plans to expand to other cities and businesses in the near future.
Amazon is also moving forward with plans for a $1.5 billion international Amazon Air hub at Cincinnati/Northern Kentucky International Airport. The ecommerce giant has even plans of eventually delivering packages by drone.
With ecommerce companies increasing their focus in the logistics space, should there be reasons for the logistics players to feel concerned that more customers might become competitors in near future? 
Industry players say there is room for growth for all in the market, at this point of time.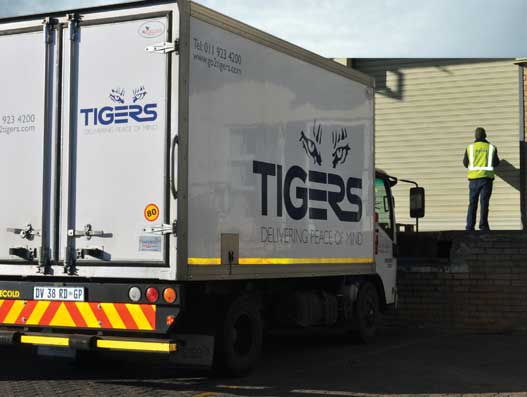 "Tigers offers a full enterprise solution with its own eShops around the world offering customers the option of trading their products online through the platform. We also White Glove our technology for certain customers. There is room for everyone in the market at the moment," says Jillings answering the above question.
Current trade war between China and the US
While ecommerce and logistics majors are getting highly competitive, encouraging cross border business, the growing trade standoff between two of the largest economies USA and China, are eventually becoming a matter of concern. What started as a $34 billion opening round of tariffs between the two superpowers, quickly escalated to $200 billion. There are now even threats from USA that all $505 billion of Chinese imports could be hit with new tariffs. There are several ways the internet retail sector remains particularly vulnerable, if this trade war plows ahead with no clear end in sight.
"We are cautiously optimistic that trade negotiations will resolve the current situation in the near term.  If that happens there should not be much of an impact.  If trade negotiations do not get resolved quickly then we anticipate commerce will continue to flow but from other destinations," says Szczesniak.
Echoing similar sentiments, ChingKiat says, "We are closely monitoring and remain cautiously positive about our air cargo performance for the rest of the year, as the market environment remains challenging in light of the rise in trade protectionism. Though the trade tariffs do not directly affect Singapore's exports, they are likely to have spillover impact due to Singapore's role in the global supply chain. As Singapore is a small and open economy, it is likely to be affected by any escalation of global trade tensions."
At a time when the ecommerce industry is evolving at an encouraging pace, it is almost impossible to avoid the impact of such trade wars across the global economy. The logistics as well as ecommerce stakeholders unanimously affirm the importance of free trade and open borders. It is important to understand that the growth and prosperity which were realised by globalisation must not be jeopardised by protectionist and nationalist activities, stress industry experts.