Port of Rotterdam's Container 42 to get Traxens' technological expertise
Oct 29, 2019: Data and services provider Traxens and Port of Rotterdam have come together as partners for the #WeAre42 Smart Container project. It is a groundbreaking initiative and a first for the shipping industry, wherein Traxens will provide the technology to help answer questions on logistical efficiency, sustainability and the future of technology in […]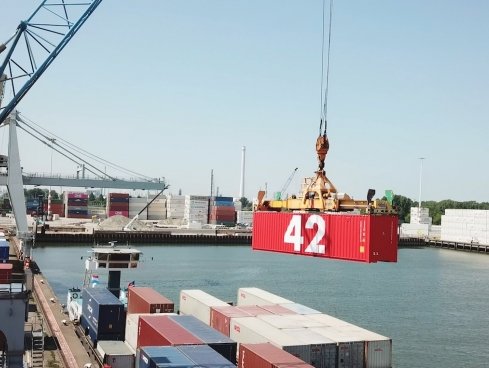 Oct 29, 2019: Data and services provider Traxens and Port of Rotterdam have come together as partners for the #WeAre42 Smart Container project. It is a groundbreaking initiative and a first for the shipping industry, wherein Traxens will provide the technology to help answer questions on logistical efficiency, sustainability and the future of technology in the supply chain.
Over the course of two years, Container 42 will be shipped to ports around the world and share information it has gathered on this data-collecting mission. The container is equipped with Traxens' device and communication technology that will generate IoT data via its platform, Traxens Hub. Traxens will provide an important part of the entire embedded technology, it will measure changes in everything from vibration, acceleration, position and sound to local air pollution, temperature and humidity. The Smart Container has also been fitted with solar panels; the journey will help determine how much power the container generates and uses for data gathering.
"Traxens is the future of digitalisation in the supply chain industry. Our smart technology will gather, generate and aggregate data from Container 42 in this worldwide data finding mission. The Port of Rotterdam is one of the leading ports in the world. We are looking forward to working with them to digitally transform multimodal supply chains and improve logistical efficiency," said Jacques Delort, managing director, Traxens.
"We are very happy to welcome Traxens to the Container 42 journey. We believe the digitisation of Rotterdam's port services will contribute to even safer, swifter and more reliable forwarding of cargo. "At some point in the future, it will also enable Rotterdam to accommodate autonomous shipping in its port area," said Erwin Rademaker, programme manager, Port of Rotterdam.
Traxens' breakthrough Internet-of-Big-Things technology provides comprehensive, real-time information for managing logistics assets anywhere in the world. It received the Frost & Sullivan's Technology Leadership Award in 2019.