Port of Rotterdam throughput increases by 4.9 percent in 2015
Jan 16, 2016: Goods throughput in Rotterdam increased by a total 4.9 percent to 466.4 million tonnes in 2015. This growth is due to increased throughput of crude oil and oil products. Allard Castelein, chief executive officer, Port of Rotterdam Authority, "Low oil prices result in high margins for the refineries, so they have large […]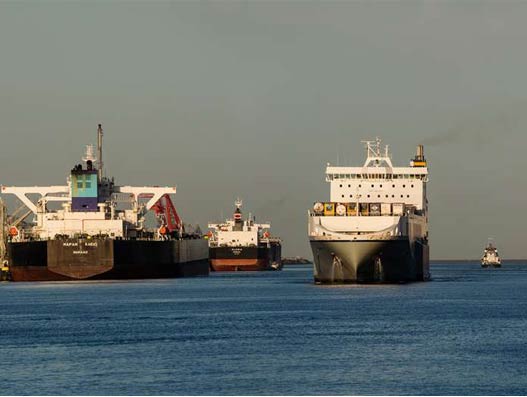 Jan 16, 2016: Goods throughput in Rotterdam increased by a total 4.9 percent to 466.4 million tonnes in 2015. This growth is due to increased throughput of crude oil and oil products.
Allard Castelein, chief executive officer, Port of Rotterdam Authority, "Low oil prices result in high margins for the refineries, so they have large quantities of oil shipped in for refining. This not only applies to the refineries in Europe but also to those in Russia. The latter produce a relatively large amount of fuel oil which is shipped to the Far East via Rotterdam. The result is an 8 percent increase in the throughput of crude oil and an 18percent increase in the throughput of oil products."
Although this year the port owes its growth to oil, according to Castelein the port is in a transition phase, "Due to the need to combat climate change, the port is fully committed to energy efficiency as well as the development of renewable energy and bio-based chemistry. Rotterdam already has one of the most energy efficient refining and chemicals clusters and the largest bio-based cluster in the world. It is our ambition to retain our leading position."
When it comes to throughput in 2016, the Port Authority aims to match the port's strong performance in 2015.
The throughput of crude oil increased by 8.1 percent to 103.1 million tonnes, driven by low oil prices. The supply and transport of oil products increased by 18.0 percent to 88.5 million tonnes. In addition to a substantial increase in the throughput of fuel oil, more gas oil and diesel came into the port for the European market. The throughput of LNG increased by no less than 91.3 percent.
The throughput of chemical products fell, while the throughput of palm oil and biodiesel rose. In total, 10.9 percent more liquid bulk was handled in Rotterdam. Since the total throughput comprises 48 percent liquid bulk, this segment largely determines the overall throughput figures.
The throughput of ores and scrap fell by 0.6 percent to 33.9 million tonnes. Although steel demand slightly increased, this was offset by the import of cheap Chinese steel. The throughput of coal increased by 1.0 percent to 30.7 million tonnes. Additionally, the concentration of coking coal entering Rotterdam slightly increased the throughput volume. Good harvests provided lower imports of mostly oil seeds and fodder, as a result of which agricultural bulk fell by 3.8 percent to 10.8 million tonnes. The amount of other dry bulk decreased by 3.9 percent to 12.3 million tonnes as fewer nutrients and minerals were imported. In contrast, more fly ash, a residue of coal plants, was transported to the United States. All in all, the handling of dry bulk decreased by 1.0percent.
The handling of containers fell by 0.5 percent to 12.2 million TEU (twenty foot equivalent unit) and by 1.1 percent to 126.3 million tonnes. In the first half of the year 6.2 million TEU was handled, the second half 6.0 million TEU. The volume of transport to Asia increased by 2 percent while to Latin and North America, it fell. Within Europe, transport to the Iberian Peninsula and Great Britain increased. Ro/Ro traffic increased by 10.1 percent to 22.0 million tonnes. The break bulk category category increased by 6.5 percent.