Port of Los Angeles and Indonesia Port Corporation join hands
Dec 13, 2019: The Port of Los Angeles and Indonesia Port Corporation (IPC) PT Pelabuhan Indonesia II (Persero) have come together with goals of promoting further cooperation and information sharing on issues of business and trade, digital supply chain efficiency, the environment and infrastructure development. Officials of both parties signed a Memorandum of Understanding (MOU) […]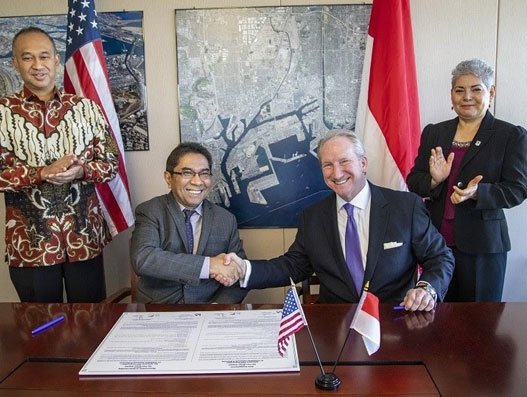 Dec 13, 2019: The Port of Los Angeles and Indonesia Port Corporation (IPC) PT Pelabuhan Indonesia II (Persero) have come together with goals of promoting further cooperation and information sharing on issues of business and trade, digital supply chain efficiency, the environment and infrastructure development.
Officials of both parties signed a Memorandum of Understanding (MOU) thats calls them to collaborate on strategies related to port operations, commercial trade competitiveness, port and rail infrastructure development. The agreement also calls for sharing of best practices on pollution reduction, alternative energy initiatives, and port security and safety programs.
"Increased global competitiveness, supply chain innovation and the more widespread use of sustainable operations technology can only happen if ports join forces in earnest to share ideas and expertise. This agreement today is another example of the Port of Los Angeles' commitment to further promote international cooperation and collaboration across the globe," said Port of Los Angeles Executive Director Gene Seroka.
The MoU's digital supply chain efficiency cooperation will entail working on a pilot project to improve information flow and visibility using the Port Optimizer, a first-of-its-kind digital portal co-developed by the Port of Los Angeles and GE Transportation to track real-time maritime shipping data for cargo owners and supply chain stakeholders through secure, channeled access.
"PT Pelabuhan Indonesia II is excited to establish more formal ties with Port of Los Angeles to collaborate closely in the years ahead. From the environment to new technologies, business systems to infrastructure development, there is a great deal that we can learn from one another to improve operations and advance global trade, innovation and sustainability," said Elvyn Gani Masassya, president director of PT Pelabuhan Indonesia II (Persero).